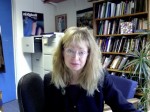 Dr
Margaret Healy
Biography
I studied at London University receiving a BA in English from Queen Mary College, an MA in Renaissance Studies from Birkbeck College, and a PhD from University College London (1995). Prior to this I had an extensive career in hosital and community health care. I arrived at the University of Sussex in 1998 following a brief period at the Open University where I was part of a team writing new Shakespeare and Renaissance Studies courses. I was attracted to the interdisciplinary character of the teaching at both these universities. As Reader in English at Sussex I teach undergraduate courses on Shakespeare, early modern literature and culture, genre, representation and the body, Renaissance drama, and the postgraduate MA course The Renaissance Body in the Centre for Early Modern Studies at the University of Sussex. I also convene the Masters programme, Early Modern Literature and Culture. Since 2008 I have been Associate Editor of the journal Medical Humanities (BMJ), a role which brings together my two careers in health, and in teaching and writing about literature.
My primary area of research is early modern texts and culture and I am particularly interested in the intertexture of literary, medical and scientific, political and religious writings in this period and the way that metaphors of the body mediate debates which intersect these categories. My research thus engages with cultural theory of the body as expounded by anthropology, sociology, literary theory, history and cognitive philosophy. I have worked extensively on representations of the body with particular emphasis on the writings of Shakespeare, Montaigne, Milton, Dekker, Spenser and Defoe. In 2008 I was awarded a Leverhulme Fellowship to research and write a monograph on Shakespeare's Sonnets and A Lover's Complaint, alchemy and the creative imagination. I continue to write essays on the interfaces among literature, medicine and science and on disease and illness narratives from all periods. I am an editor of the British Medical Journal, Medical Humanities, and a member of the interdisciplinary Future Healths initiative at the University of Sussex.
I have supervised Sussex DPhils on Margaret Cavendish, alchemy and identity; anti-papistry on the early modern stage; Shakespeare, embodiment and performance; literature and law; literature and healing music; the female body and the rhetoric of religious dispute; the impact of the reformation on apprehensions of the supernatural, especially witchcraft; male prostitution; infanticide; the culture of blood and the early modern stage; and on female metaphysical poets.
Selected Publications:
Shakespeare, Alchemy and the Creative Imagination: the Sonnets and 'A Lover's Complaint' (Cambridge: CUP, 2011)
Fictions of Disease in Early Modern England: Bodies, Plagues and Politics (Basingstoke: Palgrave, 2001).
Renaissance Transformations: the Making of English Writing 1500-1650, eds., Margaret Healy and Thomas Healy (Edinburgh: Edinburgh University Press, 2009).
'Poetic Making and Moving the Soul' in Shakespearean Sensations: Experiencing Literature in Early Modern England, eds., Katharine A. Craik and Tanya Pollard (Cambridge: CUP, 2013)
'Paracelsian Medicine and Female Creativity: Aemilia Lanyer's Salve Deus Rex Judaeorum', Renaissance and Reformation, 36:2 2013.
'Women and Medicine' in A Cultural History of Women in the Renaissance (London: Bloomsbury, 2013).
'Protean Bodies: Literature, Alchemy, Science and English Revolutions' in Renaissance Transformations: the Making of English Writing 1500-1650.
'Why Me? Why Now? How? The Body in Health and Disease' and 'Fashioning Civil Bodies and Others' in A Cultural History of the Human Body in the Renaissance, eds, Linda Kalof and William Bynum (Oxford and New York: Berg, 2010)
'Making the Quadrangle Round: Alchemy's Protean Forms in Shakespeare's Sonnets and A Lover's Complaint' in The Blackwell Companion to Shakespeare's Sonnets, ed. Michael Schoenfeldt (Oxford: Blackwell, 2007);
'Journeying with the "Stone": Montaigne's Healing Travel Journal', in Literature and Medicine 24, no.2 (Fall 2005), 231-249;
'Curing the 'frenzy': humanism, medical idiom and 'crises' of counsel in sixteenth-century England', Textual Practice, 18, no.3 (Autumn 2004), pp.333-50;
'Dangerous blood: menstruation, medicine and myth in early modern England', National Healths: Gender, Sexuality and Health in a Cross-Cultural Context, eds, Michael Worton and Nana Wilson-Tagoe (Cavendish, 2004), pp. 83-95;
'Defoe's "Journal" and the English Plague Writing Tradition' Literature and Medicine 22, no. 1 (Spring 2003), pp.25-44;
'Anxious and Fatal Contacts: Taming the Contagious Touch' in Sensible Flesh: On Touch in Early Modern Culture, ed. Elizabeth Harvey (University of Pennsylvania Press, 2002);
Shakespeare's ' Richard II' in the series, Writers and their Work, gen. eds. Isobel Armstrong, Brian Loughrey (Plymouth: Northcote House, 1998).
Healy, Margaret (2013) Paracelsian medicine and female creativity: Aemilia Lanyer's Salve Deus Rex Judaeorum. Renaissance and Reformation , 36 (2). pp. 75-103. ISSN 0034-429X
Healy, Margaret (2013) Poetic 'making' and moving the soul. In: Shakespearean sensations: experiencing literature in early modern England. Cambridge University Press, Cambridge, pp. 173-190. ISBN 9781107028005
Healy, Margaret (2013) Women and medicine. In: A cultural history of women in the Renaissance. The cultural histories series, 3 . Bloomsbury Academic , London, pp. 95-114. ISBN 9780857850997
Healy, Margaret (2012) Why me? Why now? How? The Body in health and disease. In: A cultural history of the human body in the Renaissance. A cultural history of the human body (3). Berg Publishers, pp. 37-54. ISBN 9781847887900
Healy, Margaret (2011) Shakespeare, alchemy and the creative imagination: the sonnets and 'A Lover's Complaint'. Cambridge University Press, Cambridge. ISBN 9781107004047
Healy, Margaret (2010) Alchemy, magic and the sciences. In: Ben Jonson in context. Literature in Context . Cambridge University Press, Cambridge et al, pp. 322-329. ISBN 9780521895712
Healy, Margaret (2010) Fashioning civil bodies and "others": cultural representations. In: A cultural history of the human body in the Renaissance. Berg, pp. 205-226. ISBN 9781847887900
Healy, Margaret (2009) Protean bodies: literature, alchemy, science and English revolutions. In: Renaissance transformations: the making of English writing 1500-1650. Edinburgh University Press, pp. 161-176. ISBN 9780748638734
Healy, Margaret and Healy, Thomas, eds. (2009) Renaissance transformations: the making of English writing 1500-1650. Edinburgh University Press. ISBN 9780748638734
Monday 12:30-13:30
Friday 13:00-14:00