A selection of projects run by or involving members of CEMMS.
The Beware the Cat Project
The world's first ever English novel – a little known satire of magic and religious controversy written during a time of immense political and social change across England and Europe – has been brought to life by Sussex's Rachel Stenner, in collaboration with colleagues from the University of Sheffield and Sheffield Hallam University. The novel, Beware the Cat, was first written in 1552 before many of the more well-known early modern writers published their first work. It tells a tale of witchcraft, religious controversy, and talking cats in a bid to help us imagine what animals might say about the world if they had the ability to talk.Centred on the grisly alchemical experiments of a rambling priest seeking to understand the language of cats, the story asks a question that has provoked humans across the ages: do birds and beasts have reason?
The Beware the Cat project is a piece of practice as research in which scholars and creative practitioners from the disciplines of Fine Art, Theatre, Literature, and Linguistics have worked together to interrogate and reshape this early modern prose text for reception in the theatre by a contemporary audience. Director Terry O'Connor, from Forced Entertainment, has led a performance which is multimedia, using music, song, reading of text, signs, and the projection of images. The series of images used in performance are specially commissioned artwork by Penny McCarthy, responding to the imagery and tone of William Baldwin's text. You can read more on the project's website.
Print Culture, Agency and Regional Identity
Whether we view them as tastemakers, ideological brokers, or entrepreneurial opportunists, the personnel of the book trade undeniably shaped the book cultures of the sixteenth to eighteenth centuries. While capital, technology, and markets are all powerful factors in the trade's development, its people are its most significant agents.'Print Culture, Agency and Regional Identity' is a multidisciplinary network established to explore the ways that the print trade contributed to the development of regional identities in the hand press period (up to around 1850). For more information of this multidisciplanry project, see here.
The Thomas Nashe Project
Andrew Hadfield is a co-investigator on the Thomas Nashe Project, an AHRC funded project involving several institutions. At the centre of this ambitious project is the new critical edition of the works of Thomas Nashe which will be published by Oxford University Press. Over the next five years, the team will be putting together six volumes of Nashe's writing, from closet drama and erotic poetry, to satire and the early novel. Lots more information can be found at the project's website, which aims to become a space for additional resources that will help to animate the study of Nashe's writing.
Arden Critical Companions
The Arden Critical Companions explore a variety of different critical approaches to Shakespeare and his plays and provide fresh insight to the student, scholar and theatre-goer. Engaging, lucid and readable, the Arden Critical Companions make leading contemporary scholarship accessible and provide fresh insight to the student, scholar and theatre-goer. By putting Shakespeare's work into context, highlighting the culture in which he lived and worked, and examining the different ways in which his plays have been interpreted, each volume helps the reader develop a richer understanding of both individual plays and his work as a whole. General Editors: Andrew Hadfield (University of Sussex) and Paul Hammond (University of Leeds). Visit the series website for more information.
Early Modern Literature in History Series
Within the period 1520-1740, this series discusses many different kinds of writing, both within and outside the established canon. The volumes may employ different theoretical perspectives, but they share an historical awareness and an interest in seeing their texts in lively negotiation with their own and successive cultures. Series Editors: Andrew Hadfield (University of Sussex) and Cedric Brown (University of Reading). Visit the series website for more information.
The James Shirley Project
The James Shirley Project seeks to produce a modernized-spelling edition of The Complete Works of James Shirley (OUP), as well as an authoritative original-spelling online text of his works. Project members are also producing a volume of critical essays on Shirley, articles, and papers. Andrew Hadfield is a General Editor for the project. Find out more here.
The Hakluyt Project
The Hakluyt Edition project is preparing a 14-volume critical edition of Richard Hakluyt's The Principal Navigations (1598–1600) for Oxford University Press. The edition will make available Hakluyt's text in a way that has not been possible before, opening up the era of early modern travel and exploration to a new generation of readers. Matthew Dimmock is the editor for one of the volumes. Find out more here.
Maria's perspective
In 2016 I completed my PhD on a collection of early printed play quartos purchased by the 10th Earl of Northumberland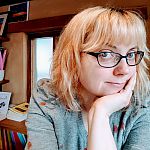 during the seventeenth century. The quartos are housed at Petworth House in West Sussex, where they have been kept since at least the 1690s.
The project was funded by a collaborative doctoral award from AHRC collaborative doctoral award and was jointly supervised by Sussex and The National Trust at Petworth House. Throughout my PhD I worked with the collections manager at Petworth and also with the West Sussex Records Office at Chichester. Having access to such an important collection of very rare quartos in their 17th century bindings was an amazing privilege, and it allowed me to carry out the kind of detailed research that just wouldn't have been possible in other circumstances.
I have learned so much from my own personal experiences as a doctoral researcher and have expanded my skill set through my work with the National Trust. I received trainin in object handling from a National Trust conservator, and was supported in many other ways by National Trust experts and associates throughout my PhD study. Now, as well as working as a Doctoral Tutor at Sussex, I am employed in the heritage sector. I work at a historic house, and my job involves teaching, research and archival work.
Working collaboratively had great benefits for me, and I also think it has benefits for the university and for the institutions involved. For example, just before I began my PhD Sussex held a multi-disciplinary conference at Petworth House in 2011 on libraries and the intellectual culture of the British country house (1500-1700), and from this conference came a volume of collected essays edited by Matthew Dimmock, Andrew Hadfield and Margaret Healy. I really believe that working in the historic environment - and learning from those who also work there - is hugely beneficial, especially for cross-disciplinary work.
Dr Maria Kirk
Recent PhD graduate