2016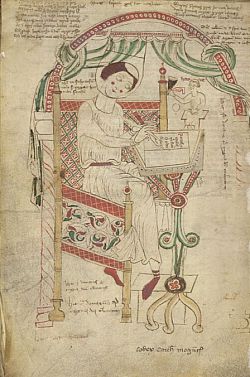 Middle English Literary Theory Workshop: Keywords and Methodologies
Thursday 16th June 2016
The 1999 anthology The Idea of the Vernacular aimed to be ground-breaking, setting up a new foundation for work on Middle English literary theory. This anthology's call to consider Middle English literature as a site for theoretical thought has been taken up by a number of scholars in relation to particular texts and topics (e.g. Minnis and Johnson (2005), I. Johnson (2013), and E. Johnson (2013)). Yet fundamental questions about both the limits and the possibilities of vernacular literary theory in medieval England remain unanswered. This one-day workshop sought to establish current attitudes and approaches to Middle English literary theory, and to revisit and re-imagine the methodologies for scholarly inquiry into it. The workshop reflected on questions such as: Do Middle English writings evidence a specific and developed vernacular literary theory? If so in what ways is this theory distinctive from Latinate and French traditions? Is there a Middle English lexicon for describing and doing literary theory? And if so, can the description and analysis of this lexicon provide one way of taking forward the study of Middle English literary theory?
Keynote: Ian Johnson (University of St Andrews) 'The Miscellaneity and Coherence of Middle English Literary Theory'
Other speakers included James Wade (Girton College, Cambridge), Jenni Nuttall (St Edmund Hall, Oxford), Conor Leahy (Cambridge), Jane Griffiths (Wadham College, Oxford), Nicolette Zeeman (King's College, Cambridge), Katie Walter (Sussex University) and Jocelyn Wogan-Browne (Fordham University).
2015
Literature and Philosophy 1500-1700: A Postgraduate Conference.
14th-16th July 2015.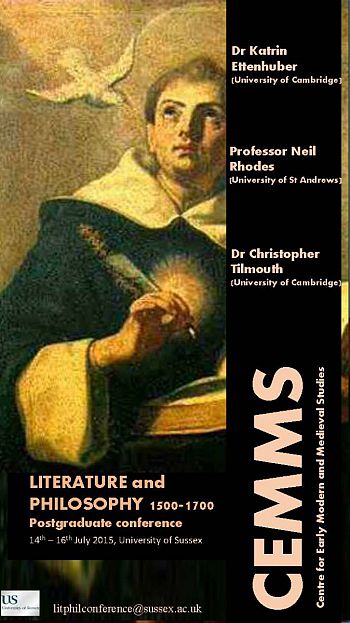 This conference set out to explore the relationship between early modern literature and philosophical thought, theories and issues. How philosophical was literature in this period? Did literature and philosophy work in symbiosis or discordantly? How are philosophical ideas approached in early modern literary texts? In what ways could literature function to promote or critique philosophical ideas? What was the role of commercial literature in disseminating philosophical thought? How did circulation of courtly literature influence contemporary political and philosophical thinking? What was the role of different textual mediums (such as codices, pamphlets or newsbooks) in disseminating philosophical ideas? How were philosophical theories engaged with in poetry, prose or drama? Did the genre or medium matter?
Plenary speakers: Katrin Ettenhuber (Pembroke, University of Cambridge); Neil Rhodes (University of St Andrews); Christopher Tilmouth (Peterhouse, University of Cambridge).

View the full conference programme.

2014
List of speakers:
Patricia Skinner (Swansea) '"My broken nose made me ridiculous": Unwanted Facial Modifications in the Middle Ages'
Helen Davies (Lancaster) '"Nature cannot be surpassed by art": The Power of Prosthetics in the Body of the Soldier'
Margaret Healy (Sussex) 'Healing Prosthetics: Word Charms, Amulets and Talismen'
Chloe Porter (Sussex) 'Post-mortem Prosthesis: Modified Bodies and the Early Modern Afterlife'
Naomi Baker (Manchester) '"The body of this death": Paul and Disability on the Early Modern Stage'
Isabel Davis (Birkbeck) 'Kneeling'
Jenny Tiramani (School of Historical Dress) 'The Rise and Fall of Geometry: The Development of Underpinnings in Early Modern Europe'
Katie Walter (Sussex) 'Plasticity and Prosthesis'
Respondent: Peter Boxall (Sussex)