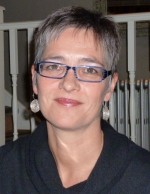 Prof
Beate Jahn
Post:
Professor of International Relations (International Relations)
Other posts:
Reader in International Relations (School of Global Studies)
Location:
Arts C C339
Email:
B.Jahn@sussex.ac.uk

Telephone numbers
Internal:
2012 or 8892
UK:
01273 606755 ext. 2012 or 01273 678892
International:
+44 1273 606755 ext. 2012 or +44 1273 678892

Research expertise:
download vCarddownload vCard to your mobile
Biography
Beate Jahn studied Political Science, Sociology and German Literature at the University of Frankfurt, Germany, where she received her PhD in 1991. She subsequently taught International Relations at the Graduate Faculty of the New School University in New York. From 1994 to 1997 she received full research funding to write The Cultural Construction of International Relations (2000) for which she received her Habilitation (higher doctorate) in 2001. During this time she taught individual courses in International Relations at various German and American Universities. In 1998 Beate Jahn was appointed Lecturer in International Relations at the University of Sussex.
She is currently Director of the Centre for Advanced International Theory (CAIT) www.sussex.ac.uk/cait and will take over as editor-in-chief of the European Journal of International Relations in January 2013.
Beate Jahn's work is broadly located in the areas of classical and modern political and international theory and she is currently writing a history of liberal internationalism. She is particularly interested in supervising DPhil projects in the following areas:
analysis of classical authors in and for international relations
analysis of world views and ideologies in relation to international affairs
critical studies of the role of human rights, democracy, international law, free trade in the constitution of world order
critical investigations of the role of culture, gender, ethics, in the constitution of the theory and practice of international relations
critical analysis of the conception of North-South relations (and more generally self-other relations) in the constitution of the theory and practice of international relations
Beate Jahn currently teaches the following courses:
L2014 Classical Political Theory and International Relations (2nd year core course, autumn term)
M1532 Law in International Relations (3rd year dissertation option, spring and summer terms)
903M1 International Theory (MA core course, autumn term)
978M9 International Law in World Politics (MA option course, spring term)

Jahn, Beate (2013) Liberal internationalism: theory, history, practice. Palgrave Macmillan, Basingstoke. ISBN 9781137348425
Jahn, Beate (2012) Rethinking democracy promotion. Review of International Studies, 38 (4). pp. 685-705. ISSN 0020-8833
Jahn, Beate (2012) Critique in a time of liberal world order. Journal of International Relations and Development, 15. pp. 145-157. ISSN 1408-6980
Jahn, Beate (2012) Humanitarian intervention - what's in a name? International Politics, 49 (1). pp. 36-58. ISSN 1354-0661
Jahn, Beate (2011) Liberalism and democracy promotion. In: Conceptual Politics of Democracy Promotion. Routledge, Oxon, United Kingdom, pp. 53-67. ISBN 9780415596879
Jahn, Beate (2010) Imperialism. In: Encyclopedia of political theory. Sage Publications, California and London. ISBN 9781412958653
Jahn, Beate (2010) Universal languages?: A reply to Moravcsik. International Theory, 2 (1). pp. 140-156. ISSN 1752-9719
Jahn, Beate (2010) British international thinkers from Hobbes to Namier. International Affairs, 86 (6). pp. 1411-1412. ISSN 0020-5850
Jahn, Beate (2009) Liberal internationalism: from ideology to empirical theory - and back again. International Theory, 1 (3). pp. 409-438. ISSN 1752-9727
Jahn, Beate (2009) Mill, Kant und der Liberale Internationalism. In: Vom Nutzen des Staates. Das Staatsverständnis des klassischen Utilitarismus: Hume, Bentham, Mill. Baden-Baden: Nomos.
Jahn, Beate (2008) The tragedy of liberal diplomacy. In: Statebuilding and intervention : policies, practices and paradigms. Routledge Studies in Intervention and Statebuilding . Routledge. ISBN 9780415452045
Jahn, Beate (2008) A liberal vanishing act: response to Oisin Tansey. Journal of Intervention and Statebuilding, 2 (1). pp. 94-98. ISSN 1750-2977
Monday 14:00-15:00
Thursday 11:00-12:00
Attention!!! Changes to Office Hours from 20 March - 12 April: details posted on my office door