Scrapbook of recipes
Welcome to the SussexFood "Scrapbook of Recipes".
First we have recipes designed to reduce food waste, then we have published Sussex students and staffs' favourite recipes from home.

With our wonderfully diverse population, we intend the recipe scrapbook to be truly global, but unique to Sussex. Here you'll find traditional family favourites, modern culinary creations and some truly idiosyncratic dishes!

On this page you can also find some useful tips on how to plan your meals wisely to reduce food waste!
Not only do we want you to be able to cook delicious meals for yourself at home, we want you to learn cook sustainably! To help you with this, below you will find some top tips for smarter cooking in addition to a selection of recipes designed to use up all ingredients and make the most of leftovers!
SMART TIPS FOR LIMITING FOOD WASTE.
How many times have you peered into the refrigerator and discovered, way in the back, a container that's been stashed there for weeks, overlooked and forgotten?
For all kinds of reasons — environmental, social and financial — it makes sense for us to get smarter about fully using the food that we purchase. And that means getting smarter about leftovers. Here are some tips for using those extras:
1. Create leftovers purposefully.
When you're planning meals, think about what the extras can become. It's a real time- and budget-saver: If you prepare twice the vegetables you'll need for tonight's dinner, you'll have the starting point for a soup or pasta dish later in the week. Anticipate using leftover roast chicken on sandwiches; cook twice as much rice as you need and freeze the extra for later use.
2. Store leftovers smartly.
Glass storage containers are not only reusable and sustainable; they allow you to see what's inside. That way, you're less likely to lose track of leftovers. For freezing, use zip-top gallon bags (which can be washed and re-used), and label and date the contents on a piece of tape.
3. Dedicate a leftovers night.
If you find your fridge or freezer stuffed to the gills with leftover food, commit to "eating down the fridge" one night a week.
4. Turn dinner into lunch.
Another money- and time-saver for busy people: Stash a lunch-able portion of dinner in a container and pack it for lunch the next day. With a bit of planning and no extra effort, you can create a week's worth of healthful take-it-to-work lunches.
5. Think "ingredients," not "leftovers."
Turn extra pasta or cooked vegetables into a frittata. Blend cooked vegetables with a can of whole tomatoes and create a veggie-packed sauce for pasta
.

Create burritos with leftover cooked rice, meat and vegetables, and top them with sour cream and salsa.
6. Make soup.
The steamed, roasted or grilled vegetables that you served as a side dish one night can become soup on another day. In a blender, puree the vegetables with 3 or 4 cups of vegetable or chicken broth, then warm the soup in a pot. Season to taste with salt and pepper, and finish the soup with a bit of pesto, olive oil or croutons.
7. Salvage stale bread.
If that loaf of good bakery bread loses its freshness after a day or two, do what the Italians do: Halve the loaf crosswise, drizzle it with good olive oil and rub it with the cut side of a halved ripe tomato. Season the bread with salt and pepper, wrap in foil and bake until warm.
8. Create "kitchen sink" meals.
A great way to use extra cooked vegetables, bits of cheese, grilled or roasted meat or chicken is to toss them with lettuce and your favourite dressing.
9. Portion and store.
Many food products come in extra-large sizes, which can be more economical. If you won't use all that sliced bread right away, for example, separate the loaf into portions you and your flatmates will use in a day. Place a sheet of waxed paper between the portions, wrap and freeze. Tortillas, pita bread and similar items can be saved the same way. Likewise, divide money-saving large packages of meat into portions and freeze.
SAMPLE WEEKLY PLANNING RECIPES.
Day 1. Spaghetti Bolognaise - serves 3

500g beef mince lean
1 tin chopped tomatoes
2 tbsp. vegetable/olive oil
25g tomato puree
15g garlic chopped (approx 3 bulbs, put the rest back in the fridge)
300g spaghetti (buy a 500g packet)
1 onion medium chopped
Dried oregano
Beef stock cube
Salt and pepper
75g everyday grated Italian style cheese (150g packet - this can be parmesan)

1. Place saucepan in water on stove and bring to boil. Meanwhile, fry off beef mince and leave in colander to drain away fat.

2. Add onions to pan, fry off, add garlic, beef mince, tomato puree, chopped tomatoes and beef stock cube crumbled in. Add in oregano, adjust with water if needed and bring to boil and simmer for around 20 minutes.

3. Whilst mince is simmering, put spaghetti into boiling water and cook. Adjust seasoning (with salt and pepper etc) in sauce.

4. When spaghetti is ready (soft) strain off the water by pouring into colander. Take half of the spaghetti and put onto your 3 plates. Put the second half to one side to cool and put in fridge for another evening, cover when ready.

5. Pour sauce over the spaghetti, just half of it which is plenty for 3 people, then again put the rest in the fridge for another day. Sprinkle over some of the cheese.

ITEMS LEFT OVER - Bolognaise sauce, spaghetti, Italian hard cheese, garlic, tomato puree, sock cubes, oregano.

Day 2. Pan-fried Yoghurt Pizza - makes 2 flatbreads

100g self-raising flour
150g Greek yoghurt (Greek Yoghurt 500g)
1/4 tsp ground cumin (optional)
1/4 tsp salt
Tomato puree
Oregano
1/2 chopped onion
150g closed cup mushrooms sliced (300g packet)
75g ham chopped (honey roast wafer thin 150g)
75g sliced peppers (sliced peppers 150g packet)
200g grated cheese (everyday value grated cheddar 500g)

1. Heat the oven to 200C/400F/gas mark 6. In a bowl mix together the self-raising flour, yoghurt, cumin and salt. Knead to a dough firm enough to hold together. Split into two equal sized portions, then roll each out into a thin (but not wafer thin) disc large enough to fit into your non-stick frying pan.

2. Heat the pan on a medium-high heat then add the rolled out dough. Cook for around 5 minutes on each side, making sure it doesn't burn (turn down if necessary). You can add a tiny splash of oil if needed.

3. Remove from the heat and put on a large baking tray before adding your toppings of choice.

For the topping:

1. Spread tomato puree over your pizza bases.

2. Sprinkle over oregano.

3. Add chopped onion, peppers and mushrooms then cover with cheese.

3. Sprinkle over a little vegeatble/olive oil.

4. Bake for 5-10 minutes until done.

ITEMS LEFT OVER - Sliced peppers, mushrooms, ham, cheddar cheese, Greek yoghurt.

Day 3. Chilli Con Carne - serves 3

250g bolognaise sauce (in fridge from day 1)
210g washed long grain rice (long grain rice 1kg)
200g red kidney beans (in water 400g)
Chili powder
70g chopped fresh coriander (coriander bunches 150g)

1. Put a saucepan of water on to boil.

2. Wash rice in cold water 2-3 times.

3. When water is boiling, add in washed rice and stir regularly to stop sticking to the bottom of the pan.

4. In another saucepan gently heat up the bolognaise sauce. Meanwhile boil the kettle.

5. Add in the kidney beans to the meat sauce and then add in the chili powder to personal taste. Adjust seasoning and simmer.

6. When rice is ready, pour into a strainer and then pour over boiling water from the kettle to get rid of the glutinous liquid.

7. Plate up the rice and then add the sauce.
Day 4. Leftover Spaghetti Tortilla - serves 4

4 eggs
25g Italian style cheese grated (from previous dish)
Salt and black pepper
1-2 tbsp. dried sage or thyme (or oregeno/whatever is in your cupboard)
250g leftover spaghetti
150g chunky vegetable pasta sauce (500g jar or pack)
100g cheddar grated (leftover from previous dish)
Olive/vegetable oil for frying

1. Beat the eggs and Italian cheese together with a little seasoning. Chop and add the herbs and the leftover spaghetti.

2. Heat a non-stick frying pan (mine measure 20cm across) until very hot, the heat the oil until it simmers. Add half the egg and spaghetti mix to the hot pan. Spoon it over for a few seconds as you might if making a thick omelette. Turn the heat down, shuffle the pan to spread and flatten the mix, then add the cheddar evenly across the surface.

3. Add the remaining egg and spaghetti mix over the cheddar: make sure the underside doesn't catch.

4. When you are confident that the bottom of the tortilla is cooked adequately, cover the pan with a snugly fitting plate, then flip it over and tip the tortilla out. Return the pan to the hob, add a little extra oil and heat until it's very hot once again. Tip the tortilla back into the pan to cook the reverse side. Lower the heat and cook through. It takes 8-12 minutes in total. Let it cool for 2 minutes and then serve.

ITEMS LEFT OVER - Tomato pasta sauce, cheddar cheese, eggs, italian style hard cheese grated.

Day 5. Mushroom, Pepper and Bean Casserole with Greek Style Pork Koftas and Yoghurt Dressing - serves 4

200g tomato chunky vegetable pasta sauce
150g mushrooms
75g sliced peppers
200g Greek style yoghurt
1 onion sliced
1 egg white
200g red kidney beans
50g garlic crushed/chopped
500g 12% fat pork mince (500g)
Beef stock cube
Ground cumin
Ground coriander
80g fresh chopped coriander

1. Turn on oven to 170degreesF. Mix in a bown the pork mince, most of the cumin, ground coriander, 25g garlic and half of the fresh coriander.

2. Add the egg white, season and mix well until it comes together.

3. Mould into kofta-shaped balls.

4. In a frying pan, heat a little oil, put in koftas and seal off. Turn over and seal off the other side then place into oven. These will take about 15 minutes to cook thoroughly.

5. In the meantime, again in a pan, heat oil, add onions, peppers, mushrooms and kidney beans and fry off. Add in chunky vegetable pasta sauce and bring to simmer. Add beef stock cube crumbled in to give a meatier flavour. Add a little more of the cumin and coriander for flavour.

6. Now blend the Greek yoghurt with the remainder of the garlic.

7. Remove the koftas from the oven, place the casserole in the bowl, put the koftas on top and drizzle over the yoghurt dressing. Sprinkle over some chopped coriander to finish (this is optional).

Want to contribute to the Scrapbook of Recipe?
Browse through the scrapbook and click 'recipe' to view the ingredients and method...
Lentil Stuffed Peppers with a Goat's Cheese Topping

Recipe

Ingredients:

Lentils

Two peppers

Can of tomatoes

Garlic

Pinch of mixed herbs

A stock cube

75g goat's cheese

Teaspoon of gravy granules (optional)

Instructions:

Pre-heat the oven to 200 degrees/gas mark 6.

Cook dry red lentils for about 10-15minutes.

Once the lentils have cooked, drain excess water.

Add a can of tomatoes, garlic, a pinch of herbs and a stock cube to the lentils.

Stir the lentil mixture well and allow to simmer for about 5-6 minutes.

If there is any excess water still remaining you can add a teaspoon of gravy powder to thicken the sauce (optional).

Whilst the lentil mixture is simmering, cut two pepper in half (long ways so that you are cutting through the stork) and de-seed them.

Place the pepper halves on a greased oven tray.

Once the lentil mixture has thickened, fill the pepper halves with it until they are about half a centimetre from the top.

Cut slices of the goat's cheese and place on the top of the lentil mixture.

Sprinkle them with a pinch of herbs (optional).

Put the peppers in the oven for about 20 minutes until the peppers have started to wrinkle.
"When I was younger our traditional Christmas Eve meal at home was lentil stuffed mushrooms. With the exception of my mum I was raised in a family that was almost entirely vegetarian or vegan, so I guess it was an easy dish for her to throw together before she spent all day cooking the Christmas Day dinner! Lentils were a big staple of my diet and still are to this day" - submitted by Kathyn
Prawn and Sweet Potato Carribean Curry

Recipes

You will need:

1 tbsp vegetable oil

1 onion (diced)

1 red pepper (diced)

2-3 tbsp curry paste

1 can chopped tomatoes

1 can coconut milk

1 large/medium or 2 small sweet potatoes (diced)

250-300g bag of frozen prawns (defrosted)

Method:

1. Heat the vegetable oil in a saucepan pan. Add the onions and fry until softened. Mix in the curry paste and the red pepper and continue to fry for a couple more minutes.

2. Add the chopped tomatoes, coconut milk and sweet potato to the saucepan. Bring to a boil and gently simmer for 20 minutes, or until the sweet potato is tender.

3. Add the prawns to the curry and continue to cook until the prawns have heated up, but no longer as they are already cooked. Serve with rice.
"This creation was something my Mum and her partner made
when they came to stay with us last September,and I've
recreated it a few times since. It's very simple to make, contains
no dairy and can be vegetarian if the prawns are left out or
replaced with an alternative" - submitted by Sabrina
Chocolate Chicken Curry

Recipe

Ingredients:
Dark Cocoa powder-4 tablespoons
Milk-4 cups
Coriander Powder-3 tablespoons
Cumin Powder-3 tablespoons
Nutmeg powder-1 teaspoon
Cinnamon powder-1 teaspoon
Plain Yogurt-a tablespoon
Coarsely ground red chili paste-2 tablespoons
Butter-for stir-frying
Water-as needed

4 Potatoes steamed, peeled and diced
7 Garlic cloves-slice into slivers
1 White/Red Onion-slice into slivers
A cup of Kidney Beans-boiled
1 Green Capsicum-diced
4 Chicken Breast-diced and boiled beforehand

Coriander leaves-as garnish
Salt-to taste

Method:
First, add some butter to a deep pan and stir-fry the potatoes, onions, garlic,kidney beans,capsicum and chicken breast.Then, add the cocoa powder, coriander powder, cumin powder, nutmeg powder and cinnamon powder till the mix is mildly brown. Add a little milk, the plain yogurt and chili paste to the mix next. Once the mixture is a little pasty, pour the rest of the milk in and stir. Add some salt to taste and let it boil for about 20 mins.Stir every now and then and add some water if the gravy gets to thick. Once at full boil, garnish with coriander leaves and serve with rice, bread or even as a stew.
Note: Just minus the chicken from the recipe for the vegetarian version.
"Well the basis of the recipe is from my indian roots mixed with my ideas about how the aztecs loved to incorporate cocoa in their cooking, and the rest is just me trying to be quirky in a way. I wanted to break the streotype that chocolate is only used for dessert and not as a key component to main dishes, atleast not in an obvious way" - submitted by Varsha
Squash and Feta Salad

Recipe

1 butternut squash halved lengthways, seeds scraped out
Olive oil
Sea salt and freshly ground black Pepper
Half teaspoon of dried oregano
I dried red chilli
2 ripe avocados
Juice of one lemon
Bunch of spring onions
50g pumpkin seeds
Half teaspoon of cumin seeds
50g mixed sprouts (I've used cress here, but when I can get it I use Alf Alfa)
Half a bunch of mint
200g of feta cheese

Preheat the oven to 200c. Cut the squash into about 3cm chunks, drizzle with the olive oil, sprinkle over the oregano and chilli, toss everything together and roast for around 45mins.

Once cooked and cold, cut the avocados into chunks, place in a bowl with the lemon juice, and some extra virgin olive oil, add finely sliced spring onions and season well.

Toast the pumpkin and cumin seeds, add these, the squash, spouts and mint, and mix everything well. Finally serve on a platter finishing with the crumbled feta cheese on top.

This is around 400 calories per serving and will serve four people easily.

There isn't any avocado in the picture as I couldn't find a ripe one!
"This is a dish I love to serve to meat eaters who claim vegetarian food is boring. The combination of ingredients may sound odd, but they work extremely well together, and I haven't found a meat eater yet who hasn't been won over by this recipe" - submitted by Sarah
Polish Beet Borscht

Recipe

Polish Borshcht - serves 4

300g fresh beetroot (peeled) (vacuum packed is also fine)
50g butter
1 small onion, 1 small carrot, 1 small leek (peeled, diced or cut into rings as necessary)
½ bay leaf
1.5l good quality beef stock
2 medium floury potatoes (peeled and diced)
½ small cabbage (shredded)
4 cloves garlic (peeled and crushed)
2 tbsp cider vinegar
1 tsp sugar
½ tsp ground black pepper
Sour cream, fresh dill and a crusty roll to serve (there are lots of Polish shops around Brighton which stock authentic produce and even Tesco has a great Polish section these days).

1. Cut ¾ of the peeled beetroot into small dice (wear rubber gloves and an apron, it stains!) and set the rest aside. Melt the butter in a big pan, soften the onion for 5 minutes.
2. Add the carrot, leek, diced beetroot and bay leaf and stir. Cook for another 10 minutes or so and add a little bit of stock if it gets dry. Grate the rest of the beetroot while it's cooking.
3. Pour in all of the stock and the diced potatoes and cook for 15 minutes. Add the cabbage, garlic and grated beetroot. Cook until all the vegetables are tender (about 10 minutes).
4. Add the vinegar, sugar, pepper and a pinch of salt. Add a little more of any of these if necessary, then serve with a dollop of sour cream, a sprig of dill and some Polish bread on the side.
"My Grandma is Polish and soup has been cooking on the hob in her house ever since I can remember. Different varieties included chicken & noodle, vegetable and even gherkin but my absolute favourite is borshcht. Such a beautiful, vibrant colour from the beetroot and the lovely slightly sweet flavour has always been a hit. Nutritionally, I'm not sure of calories etc. but with all these fresh ingredients it can't be bad!" - submitted by Naomi
Low Calorie Mushroom Stroganof

Recipe

Serves 4

•1tbsp rapeseed oil
•1 large onion, thinly sliced
•4 celery sticks, thinly sliced
•2 garlic cloves, crushed
•600g mixed mushrooms, chopped
•2tsp smoked paprika
•250ml vegetable stock
•150ml soured cream
•Pepper

Fry off (in the rapeseed oil) the onion, celery and garlic and cook for 5 mins Add the mushrooms and paprika and cook for a further 5 minutes.

Pour in the stock and cook for a further 10 mins or until the liquid is reduced by half.

Stir in the soured cream and season with pepper. Cook over a medium heat for 5 mins. Serve immediately.

I also put oregano in this evening... but only because it's growing great guns in the garden... you could miss this out if you haven't got any
"A friend of mine gave me this recipe because she was doing the 5:2 diet. I am not doing the 5:2 diet but it's a great little low cal recipe if you have over indulged during the day... only 90 calories per serving. And it's lush!" - submitted by Lucy
Heuvos Ranchoros

Recipe

To make it fry one onion, red pepper with a couple of cloves of garlic all chopped with cumin, cayene pepper and crushed chilies fry these until the onions brown a little. Next mix in a can of chopped tomatoes and simmer for a few minutes, you can add a sprinkle of sugar if you wish, now make a couple of wells in the mixture and break in two eggs (one if you prefer) then cover with a lid and cook for 3/4 minutes. Without covering it's difficult to cook the eggs, if you don't have a lid just put a plate on top. Finally grate some cheese, sprinkle over and serve. Bon Appertit!
"Huevos ranchoros, this is quick and easy to make, full of protein and
doesn't make you feel bloated as it has no starchy carbs in it. It would
work well as a breakfast or lunch option. I served it with green beans,
but equally avocado and soda bread would be good accompaniments"
- submitted by Fiona
Skinny Baked Cheesecake
Recipe

Ingredients
•375g of Quark
•300g of fat free cottage cheese (blended till smooth)
•4 eggs
•1/2 cup (100g) of sugar or Splenda sweetener
•1 tablespoon of cornflour
•vanilla pod
•1 tsp of vanilla essence
•little zest from a fresh lemon
•fresh berries

Preheat oven to 180c or 350f (gas mark 4). Grease a spring form pan. Separate the yolks from the whites of the eggs.
Scrap the seeds from the vanilla pod and add to a large bowl along with the quark, cottage cheese, sugar (Splenda), egg yolks, vanilla extract, little zest from a lemon and the cornstarch. Whisk until all ingredients are well combined. In another bowl whisk the egg whites until they form soft peaks. Fold this into the rest of the mixture. Pour this into the springform pan and gently tap the sides, so the mixture is evenly distributed in the pan. Place in the oven and bake for approx 35 mins. When cooked the cheesecake will be slightly golden around the edges. You can gently place a skewer in the centre just to make sure the middle is not too wet still.

Leave the cheesecake to cool in the oven with the door slightly ajar.
Once cooled you can then place in the fridge to chill before slicing.
Serve with berries of your choice!
"Fat free, high protein...and very yummy!" - sumbitted
by Agnieszka
Anytime Pancakes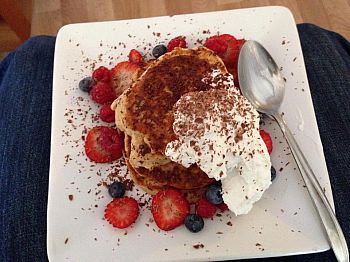 Recipes

40g of oat flour
100g of Greek yogurt
2 eggs

Blend ingredients together. Add a little oil and add a ladle of mixture...cook for a couple of minutes on each side. Add your own toppings, this one has more yogurt and fresh fruit. Add cinnamon for sweetness
"I call this anytime pancakes - real easy to make and can be savoury
or sweet" - submitted by Terry
Secret Chocolate Pudding

Recipe

Makes two portions:

· 1avocado
· 2 tablespoons of cocoa powder or raw cacao powder
· 1 large teaspoon of either Maple syrup or local honey
· A dash of any milk, almond, coconut or cows
· Half a small banana
· Vanilla extract (optional)

Put all the ingredients together….and blend! Add more milk to suit your desired consistency. Indulgent, healthy chocolate mousse – that you would never guess is mostly avocado!
"I've seen this on food blogs etc but this is my version"-
submitted by Amy