News
Mountain of rubbish can now be recycled thanks to new university facilities
By: Neil Vowles
Last updated: Tuesday, 11 June 2019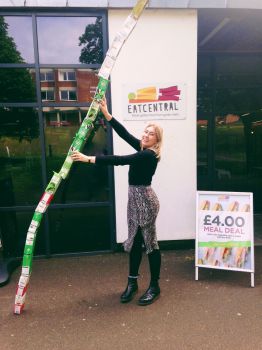 A mountain of plastic-coated packaging the equivalent of 15 i360s stacked on top of each other could be destined for a greener future thanks to the installation of new recycling facilities at the University of Sussex.
A Tetra Pak bin has just been installed on the University of Sussex campus, allowing staff, students and visitors the opportunity to recycle food and drink cartons that cannot be recycled through existing facilities.
More than 390,000 cartons and disposable cups, which stacked together would stand 2,504m tall and weigh more than half a tonne, were sold from the university's campus shops, cafes and diners in 2018.
The new Tetra Pak recycling bin is located in the York House car park ready to take packaging that has been washed and squashed.
It is the 24th facility of its kind to come into use in Brighton and Hove but only the third in the council wards closest to the university of Moulsecoomb and Bevendean and Hollingdean and Stanmer.
It is the latest in a number of sustainability initiatives by the University as part of the Go Greener project which also includes one of the campus's largest dining venues going plastic free.
Megan Youngs, a University of Sussex Geography student currently spending her placement year as an Environmental Intern at Sussex Estates and Facilities, said: "The reason why Tetra Pak cartons are so hard to recycle is because they are bound together with plastic, paper and aluminium and all of the components need to be separated to be recycled. We are very conscientious about trying to limit the amount of single use materials we as a university dispose of and so we have worked hard to find a solution that will allow for these food and drink cartons to be recycled. We are also delighted to have resolved other issues to bring about more sustainable and waste-reducing measures to campus for the benefit of students, staff and visitors."
Among other environmental initiatives introduced recently, the University's conference centre, the Attenborough Centre for the Creative Arts and eating venue Dine Central have all stopped using single use plastics.
The University is also signed up to re-use scheme Warp It allowing staff to find and give away unwanted items such as furniture for free.
In a move to reduce paper usage, double-sided printing is now the default option across the university following an extensive upgrade of office printers while the use of paper towels on campus is also being phased out as part of Go Greener. Currently almost eight million paper towels are used every year at the university – creating a total of 23 tonnes of waste from the three seconds of use each towel provides.
The University has also signed up to the only paper cup recycling scheme in the country as well introducing a new pricing strategy which rewards customers buying hot drinks with a cheaper beverage if they drink it from their own cup. The scheme has meant around 100,000 fewer disposable coffee cups were used by customers in its first six months of operation.
Francine Hill, Deputy Director of Estates and Facilities Management at the University of Sussex, said: "We are continually looking for innovative ways in which the university can reduce the volume of waste generated and amount of energy used by the institution. Such initiatives recognise the concerns raised by staff and students and helps us move towards our stated goal of having effective sustainability at the very heart of our institution. What may seem small steps to reduce waste and energy usage when viewed in isolation, can make a sizable difference as part of a wider group of strategic initiatives."