2019 Sussex International Theory Prize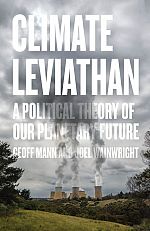 The Prize Committee decided after a stimulating meeting to award the prize to:
Geoff Mann & Joel Wainwright, Climate Leviathan: A Political Theory of Our Planetary Future
(London/New York: Verso 2018)
It was a real pleasure choosing from a very strong and diverse set of submissions. I would like to thank the CAIT Management Team - Melanie Richter-Montpetit, Beate Jahn and David Karp - for their superb work during the prize selection process.
The winners will be invited to the School of Global Studies in 2019/20 to deliver the 2019 Sussex International Theory Prize Lecture.
---
Found this interesting? Share it on social media: