Professor William E. Scheuerman (Indiana University Bloomington) delivered the Inaugural Sussex International Theory Lecture on Tuesday 8th May 2012 to a packed lecture theatre including Professor Richard Black, Head of the School of Global Studies, Faculty and Students at Sussex and CAIT Associates from elsewhere. The event marked the official launch of the Centre for Advanced International Theory.
The event was opened by Professor Justin Rosenberg, Head of the Department of International Relations at the University of Sussex, with a reflection on the long history of international theory at Sussex. He introduced the Director of CAIT, Professor Beate Jahn, who introduced the Centre and spoke on the importance of and need for international theory, now more than ever.
Inaugural lecture part 1
Professor William E. Scheuerman
Inaugural lecture part 2
Professor William E. Scheuerman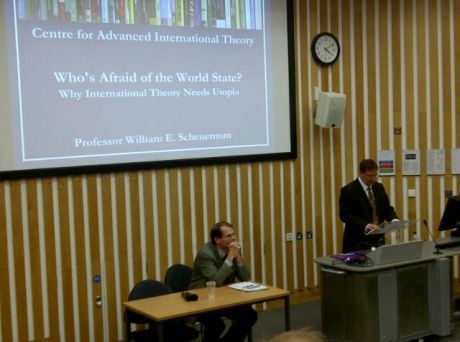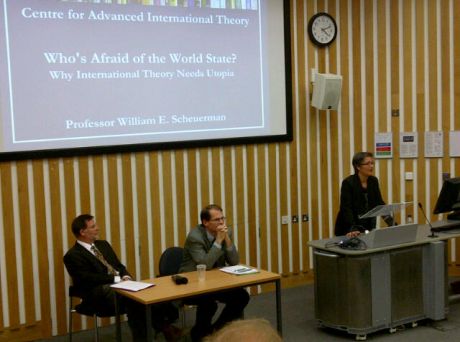 Professor Scheuerman then spoke on 'Who's Afraid of the World State? Why International Theory Needs Utopia'. His lecture inspired a vigorous Q&A session and the discussions continued over drinks at the reception afterwards.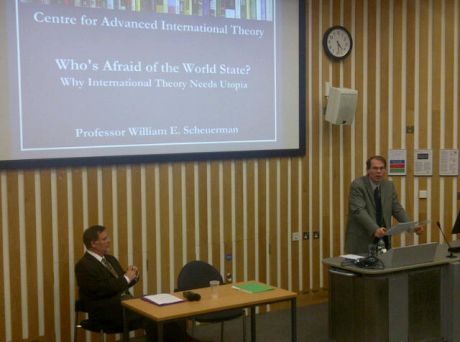 Photos courtesy of Dr. Sergio Catignani