Welcome to CAIT

Encouraging innovative theoretical research in International Relations
A latecomer to the modern canon of social sciences, the discipline of International Relations has a relatively narrow core: its roots in Anglo-American politics and academia created a Eurocentric bias; its keen desire to influence policy-making stood in the way of systematic theoretical analysis; and its limited conception of social science impeded the analysis of core norms and values. The Centre for Advanced International Theory thus aims to provide the space for systematic reflection on the concepts, actors, structures, norms, and practices of international politics.
To this end, CAIT invites advanced fundamental research on international politics from within and outside the discipline - including but not limited to international political theory, international historical sociology, international political economy and from all theoretical backgrounds, orthodox and heterodox - free of the requirement for direct policy relevance and reflexive of the knowledge/power nexus.
The Sussex International Theory Lectures showcase the relevance of innovative theoretical work in International Relations; the Sussex International Theory Prize values outstanding innovative theoretical research in International Relations; the annual International Theory Symposium provides the framework for thorough engagement with international theory and Visiting Fellowships, workshops, conferences and reading groups encourage exchange and collaboration in the field.Keep up to date with what is happening at CAIT by subscribing to our mailing list.
2021 Sussex International Theory Prize
The Centre for Advanced International Theory invites nominations for the 2021 Sussex International Theory Prize for the best piece of research in International Relations published in book form in 2020.
Wednesday 17 Mar 6pm

2020 Sussex International Theory Prize Lecture: Celebrating our 2020 prize winner: Inés Valdez, 2019. Transnational Cosmopolitanism. Kant, Du Bois, and Justice as a Political Craft
*Recording now available
here
*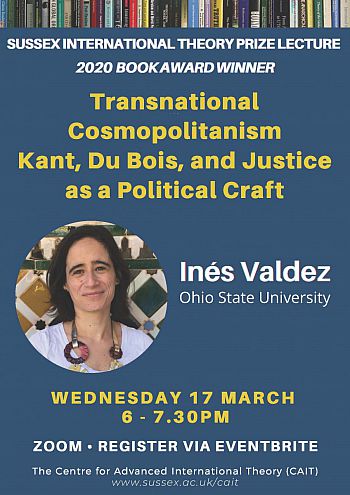 Sussex International Theory Lecture 2021
Tuesday 23 Feb 6pm
Mahmood Mamdani (Columbia) will be discussing his recent book 'Neither Settler nor Native: The Making and Unmaking of Permanent Minorities'.
Register here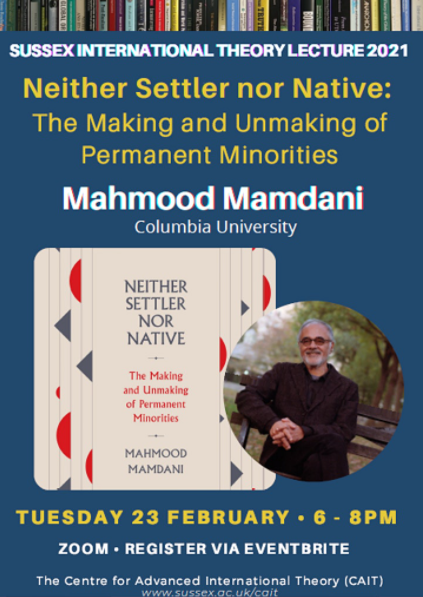 2021 Sussex Annual Symposium
*Recording now available here*
Our 2021 Sussex Annual Symposium will celebrate the 25th anniversary of Siba Grovogui's pathbreaking book Sovereigns, Quasi Sovereigns, and Africans: Race and Self-Determination in International Law (University of Minnesota Press).
There will be a panel on 22 January 2021, 4-6pm, which is open to all.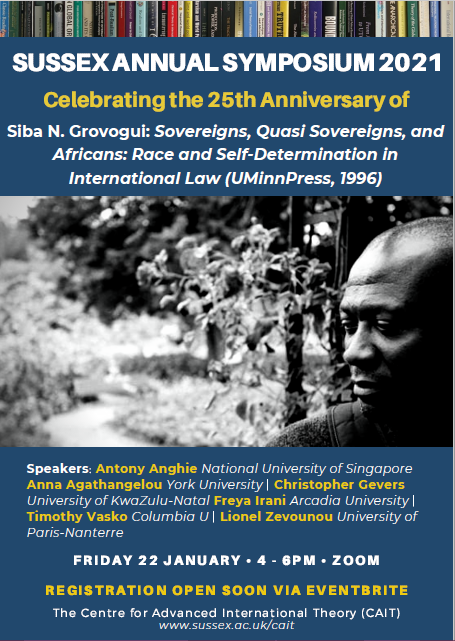 Panellists: Antony Anghie (National University of Singapore), Anna Agathangelou (York University), Christopher Gevers (University of KwaZulu-Natal), Freya Irani (Arcadia University), Timothy Vasko (Columbia University), Lionel Zevounou (University of Paris-Nanterre)
Register for the panel discussion via Eventbrite: https://bit.ly/3gBS4Sq
There will also be a workshop only open to the Sussex community on 21 January, 3-5pm. For further information please email cait@sussex.ac.uk.
Link to read the book: https://bit.ly/3gEjur5
2020 Sussex International Theory Prize
CAIT's 2020 Sussex International Theory Prize goes to:
Inés Valdez, 2019. Transnational Cosmopolitanism. Kant, Du Bois, and Justice as a Political Craft (New York: Cambridge University Press)
The public prize lecture will take place via Zoom webinar on Wednesday, 17 March 6-8pm.
Register here: https://www.eventbrite.co.uk/e/2020-sussex-international-theory-prize-lecture-tickets-131884328577
The Prize Committee noted in its Prize Statement:
Transnational Cosmopolitanism advances a radically reoriented theory of cosmopolitanism, making a powerful intervention into one of the most pressing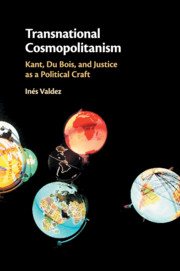 issues in contemporary critical international political theory: how to deal with the (epistemic) racism intrinsic to much of the Western canon. Offering a carefully re-contextualized reading of Kant's influential ideas about colonial conflict and world peace, the book demonstrates that his theory of cosmopolitanism is ill-suited to address the global injustices of the colonial present. While neo-Kantians reject Kant's epistemological and ontological commitments to hierarchies of the human, Inés Valdez meticulously unearths how problematic assumptions about the West and progress towards peace bleed into contemporary theories of cosmopolitanism and limit their potential for tackling racism and imperialism as central forms of present day global injustice. A vital contribution to scholarship on global justice, International Relations and Critical Race Theory, Transnational Cosmopolitanism not only offers an excavation of racist and Eurocentric thought, it reads Kant 'disloyally', turning to alternative intellectual resources beyond the Western canon. Valdez fruitfully positions W.E.B. Du Bois as a global thinker and an interlocutor in the political thought of cosmopolitanism, drawing on both his neglected anti-colonial writings and what she refers to as his political craft, such as his involvement in the 1919 Pan-African Congress in Paris. The book directs our attention to transnational horizontal coalitions of people subject/ed to racist-colonial power and the ways in which they contest global injustices and imagine global politics otherwise. Charting new paths for creative, exegetically disloyal modes of reading that can radically reorient our normative priorities and ground our theorizing in concrete experiences of oppression and political practices of the struggle against it, Transnational Cosmopolitanism offers the kind of radical analysis and cutting-edge theoretical innovation that the Sussex Centre for Advanced International Theory seeks to promote.
2019 Sussex International Theory Prize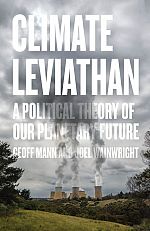 The Prize Committee decided after a stimulating meeting to award the prize to:
Geoff Mann & Joel Wainwright, Climate Leviathan: A Political Theory of Our Planetary Future
(London/New York: Verso 2018)
It was a real pleasure choosing from a very strong and diverse set of submissions. I would like to thank the CAIT Management Team - Melanie Richter-Montpetit, Beate Jahn and David Karp - for their superb work during the prize selection process.
The winners will be invited to the School of Global Studies in 2019/20 to deliver the 2019 Sussex International Theory Prize Lecture.
Critique in Times of Post-Truth - Dr. Sebastian Schindler
Dr. Sebastian Schindler from the University of Frankfurt's School of Social Science is our latest CAIT Visiting Research Fellow.
Sebastian is a research associate in the working group 'International Organisations' at the Frankfurt Cluster of Excellence 'Normative Orders'. His research is located at the intersection between IR Theories, international organisations, and international political theory. His essay "Man versus State: Contested Agency in the United Nations" was awarded Millennium's Northedge Prize in 2014. Since 2016, he serves as speaker of the Young Researchers' Group in the IR section of the German Political Science Association.
Sebastian presented his current work entitled "Critique in Times of Post-Truth" on Friday, 30th of November 2018 to the Department.
More details: Critique in Times of Post-Truth
New Leverhulme project on Women and the History of International Thought (WHIT)
This collaborative and multi-disciplinary four-year project (2018-2022), generously funded by the Leverhulme Trust, is the first sustained attempt to write historical women back into the history of international thought and the academic discipline of International Relations (IR).
Visit the website: Women and the History of International Thought