For staff
Information for all staff in the School of Business, Management and Economics (BMEc).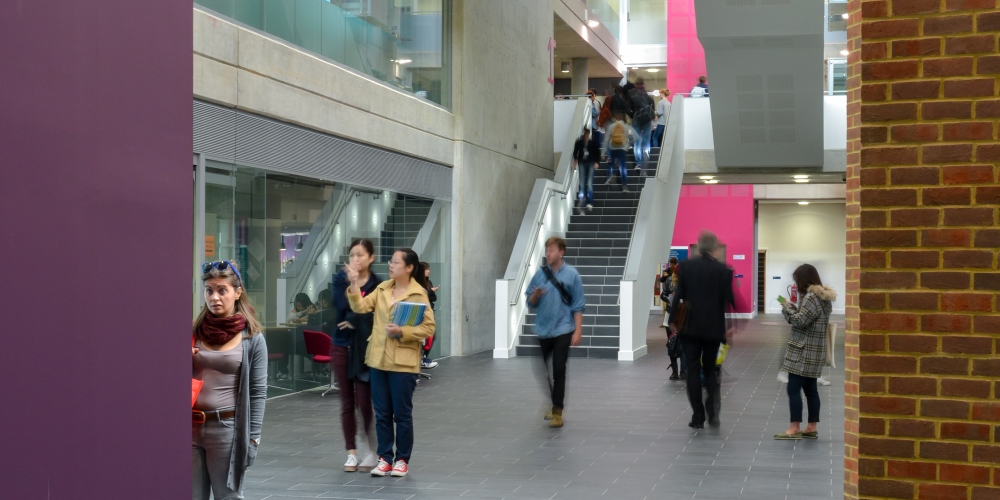 BMEc staff handbook
Also available as a printable PDF:
Welcome from Head of School and School Manager

The School of Business, Management and Economics (BMEc) is a vibrant, ambitious and dynamic School with a unique research focus, which takes a strong policy-directed view on business practices while also developing the underlying core disciplines. The School is exceptionally well placed to provide leadership in the development and dissemination of sustainable business and management practice, informed by sound economic logic.

The constituent departments are the Department of Economics, with its reputation for development economics and international trade; the Department of Business and Management, which spans all the main business disciplines including enterprise and innovation; and SPRU – Science Policy Research Unit, with its long standing international reputation for science policy, energy policy and innovation. In addition, BMEc houses the University's International Summer School.

The School is well connected with governments, international organisations and key individuals at the highest levels. The combination of expertise and involvement in high level policy ensures that the courses offered are relevant, innovative and up-to-date with current thinking.

The School is located in a superb new building at the centre of the campus. As befits a School which has a strong interest in energy efficiency and sustainability, the Jubilee Building contains many state of the art features which contribute to it attaining the 'excellent' rating under the UK energy efficiency and sustainability standards (BREEAM).

You will no doubt have heard about the many ratings and ranking scores, with the University itself being placed in the top 100 of universities worldwide by the THE. It is important that the School is also seen as a top class research and teaching organisation, so our policy of hiring top quality academics from around the world as the School grows is aimed at us achieving even greater levels of prominence internationally.

This handbook is designed to give you an introduction to the School and to provide details about life at the University. It should serve as a useful guide and should be kept for future reference.

We have tried to make the information as clear as possible, but if you are still unsure you should ask other members of School who we are sure will be delighted to provide you with assistance.

We wish you all the best in your career at Sussex and let's continue to make it an exciting place to be!

Professor Steve McGuire
Head of School

Merrill Jones
School Manager

Our vision and mission

Our vision

Our vision is to be a School that collaborates across disciplines to shape global issues in business, management, and society, making an impact on policy, practice, and people.

Our mission

Our mission to achieve this vision is to:

carry out high-quality research and develop innovative policy
develop current and aspiring leaders who will champion critical and original thinking
work internationally with businesses, governments, and others to deliver innovative approaches to management.

Our distinctive themes

Like all management schools, we research and teach in all the major academic sub-disciplines of management, as well as economics. To that we add the distinctive strengths of Sussex, manifest in three themes that represent for us the key value-added of our research and teaching:

Innovation

The creation of new products and services is not merely about technological advance. Understanding how innovations arise requires an appreciation of the supporting economic and regulatory environment, as well as an understanding of the role of organisational design in the process. We look outside as well as inside the organisation to gain a deeper understanding of innovative processes.

This broader focus on innovation is distinctive to Sussex and is a particular strength. It has allowed our scholars to influence government policy toward start-ups and the funding for entrepreneurship. Our Science Policy Research Unit (SPRU) has led the world in researching the public policy of innovation and has advised governments in the UK and around the world on the policy mix necessary for technological and economic progress.

In addition, academics in the Department of Business and Management have looked at how creativity thrives in larger, more complex organisations, as well as how the very newest technologies are marketed.

Management and the public realm

At Sussex, we integrate management and economics education with an understanding of the broader political and social environment. To a much greater extent than other management schools, we see government policy as integral to understanding contemporary economies.

We believe that a separation of business and government is not a useful way to prepare graduates for a world where regulatory change can alter business practice overnight.

In the context of increased public scepticism about the benefits of globalisation, graduates need to understand how the political and social realms cannot be remote from management thinking.

Social development

Sussex has a long tradition of scholarship in international development. The School's interpretation of this history is a focus on the social bases for more sustainable forms of economic development. In our Department of Economics there is an established programme of work that considers the impact of, for example, availability of schooling on economic progress in African countries.

Our academics look at female participation in the workforce in countries like Pakistan and Bangladesh, in an effort to understand the interaction of economics and cultural norms. Much of our important recent work has focussed on wage inequality, and its effect on individuals and organisations.

Together, these themes represent a broader and more holistic conception of management education. We do not focus only on the for-profit corporation, or work entirely within the boundaries of the firm. Our research and teaching aims to provide management education that is richer and more compelling because it integrates the firm and its political and social environment.

Getting started

Induction

Your line manager will give you an induction checklist when you arrive. The checklist sets out a number of tasks to complete and processes to familiarise yourself with as you start your new job here at Sussex.

Finding the School

BMEc is based in the Jubilee Building at the heart of campus. Our full address is:

School of Business, Management and Economics
Jubilee Building
University of Sussex
Falmer
Brighton
BN1 9SL

The School office, located in Jubilee G08, is available for general student, staff, and visitor enquiries and student support issues. Opening times are Monday to Friday 9am to 5pm, except Bank Holidays and formal university closure days. You can contact the School office by phone or email as shown below:

01273 872668 (ext. 2668)
bmec@sussex.ac.uk

A map and directions to our campus are available on the University website.

Parking

The University operates a parking permit/pass scheme and if you intend to drive to the University you will need to apply for a permit/pass to park via Sussex Direct. Staff are able to choose their method of payment – the cost of parking using a permit is deducted monthly from salaries and a pass enables you to pay on a daily basis at a reduced rate. Scratch cards are obtainable in books of 10 from various outlets across campus. Further information can be found on the University website.

Public transport

Cycle to Work scheme

The University runs a Cycle to Work scheme allowing staff to buy new bicycles and safety equipment with savings of up to 42%. Cycle to Work allows you to obtain a bike and/or cycling accessories to use for riding to work while making tax and National Insurance savings from your gross pay. You choose your combination of bike and accessories and then rent the equipment through salary sacrifice from the University.

Bus

The 23, 25, 25X, 28 and 29 buses run between the centre of Brighton and campus:

The 23 runs to/from Brighton Marina in the east, via Kemptown and Hanover.
The 25/25X runs to/from Palmeira Square in Hove, via Churchill Square, the Old Steine and Lewes Road.
The 28 and 29 run from Churchill Square, via the Old Steine and Lewes Road and continue on to Lewes, Ringmer and Uckfield/Tunbridge Wells after stopping outside the University campus.

Travel time between the campus and Brighton is about 20 minutes, depending on traffic.

Rail

The University is served by Falmer railway station on the south side of campus. Direct trains run from Brighton, Lewes, Seaford, Eastbourne and Hastings. Connecting trains to London, Gatwick Airport, Hove, Shoreham and Worthing run from Brighton. Journey times between Falmer and Brighton are typically 10 minutes.

Human Resources registration

You must register with Human Resources at Sussex House between 9am and 10am on your first day at work, bringing with you all the required documents specified in your appointment letter. If you are unable to do so, please let our HR contact Nicole Burmester know:

01273 873790 (ext. 3790)
human.resources@sussex.ac.uk

Identity/Library card

All new staff will be issued with a photo ID card, which will enable you to gain access to controlled areas of the Jubilee Building as well as the University Library and Sports Centre. It will also enable you to receive a discount at the University bookshop. Before you can receive your card, you must first visit the Print Unit under York House to have your photograph taken, taking with you your letter of appointment and some personal ID.

Please note that the ID card service opening hours are 9.30am-12.30pm and 2.30pm-4.30pm Monday to Friday. Normal University closure days apply.

IT Services registration

Every staff member requires an IT Services (ITS) account in order to access the University network and use online tools and resources, including your email, Outlook calendar and Sussex Direct. To get your login details and set up your account, you will need to visit the Service Desk in Shawcross. You will need to take your University ID or letter of appointment as proof of identity.

Facilities and resources

Office accommodation

Every member of staff will be allocated an office before arrival. Most offices accommodate two people; however, there are some larger offices shared by more than two people. Please ensure you lock your office when leaving it, even if only for a short time. If you forget to bring your key to work, the front desk team in the School office or the porters in Jubilee 202 will be able to unlock your office with a master key.

Offices are cleaned every two weeks and office bins will be emptied every two weeks. We encourage recycling of paper, cardboard, envelopes, glass etc and items should be placed in the appropriate bins provided around the School. Shredding boxes for confidential waste are located by photocopiers and these are emptied regularly. Each area also has a communal waste bin (landfill bin) for waste that cannot be recycled.

Telephones and voicemail

Telephone extensions are requested by the School and installed by the Telephone Engineer. Telephones are assigned a variety of dialling access levels, i.e. internal, local, national and international. Callers who wish to make calls other than at their permitted level will require approval from their line manager or the School Administrator. An exception will be made for calls that need to be made in an emergency.

Voicemail is automatically installed on the system. You can access the system by using a default security code 4444. You will then be able to change the security code and personalise the voicemail messages etc. Instructions on use are provided by the Telephone Exchange.

The University recognises that it may occasionally be necessary for members of staff to make personal calls using the University's telephone system in an emergency, and is acceptable provided that it is no more than occasional use and that long-distance, mobile or international calls are not involved. Members of staff should be aware that the University monitors the use of telephones, and anyone who is believed to be abusing the system will be investigated and disciplinary action taken where there is evidence of abuse.

For more information, see the Telephone FAQs.

IT equipment and software

Unless otherwise stated in your offer letter, your room will include a standard Windows desktop PC and monitor (including operating system, Microsoft Office, virus checker, firewall plus additional software), as detailed below:

i5-6500, 8GB memory, 500GB hard disk

If you need additional IT equipment or software, you will need to complete a software/hardware request form and this must be approved by the Head of Department and School Administrator. Please refer to the lists of specialist and additional equipment as well as the software list when submitting your request.

IT equipment and support is provided by ITS, which also provides useful information and a selection of short videos to help you get started on its website, as well as regular training courses. To get support with any IT issues or report faults, you can contact ITS by emailing support@its.sussex.ac.uk, calling 8090 or visiting the Service Desk on the ground floor in Shawcross.

Please note that it is a University requirement that all work is saved to either your N drive (i.e. the 'Documents' folder) or the School's G drive (i.e. our shared 'bmec' folders) to ensure work is stored and backed up securely. Local drives do not meet this requirement.

Calendar and key dates

It is important to use your Outlook calendar to record meetings and appointments as this will be used to check your availability for meetings. Instructions on how to access the calendar can be found on the IT Services (ITS) site.

A full list of key dates, including term dates, assessment periods, graduation dates and minimum service days (i.e. days when most campus facilities are closed) is published on the main University site and you can also download key University dates and holidays to your calendar.

Sussex Direct

Sussex Direct is our online service that provides access to the essential information needed to work or study at Sussex. It is a critical part of student, module and course administration. Tutors are required to complete class attendance records week by week (these records are monitored by school staff), module evaluations, marks and termly tutorial reports.

All staff at the University are expected to use Sussex Direct and it is particularly important that teaching staff are familiar with the process for recording marks and attendance. To book a place on a Sussex Direct training course, log in to Sussex Direct, then click through the menus as follows: Personal > Staff Development > Staff Development Course Listings and Booking Facility > Information Technology > Sussex Direct

Technology Enhanced Learning

The Technology Enhanced Learning (TEL) team, based in Essex House, provides proactive guidance, training and support to staff on the effective and innovative use of technology to enhance teaching, learning, assessment and the quality of the student experience.

Printing, copying, scanning

There are several multi-functional devices (MFDs) in Jubilee – one each in rooms 147, 245 and 350, and two in G23. These can be used for printing, photocopying and scanning. Instructions on using the MFDs are available on the ITS site.

There is also a colour photocopier and scanner in G08 (School office), which can be accessed with your department code. If you're not sure of your department code, please ask the front desk team to help you. Please note that the above office equipment is for staff use only and not for the use of students, who have separate facilities.

Large or complicated print jobs should be sent to the Print Unit in York House. Please see your Course Co-ordinator for assistance and a purchase order number.

Pigeonholes/post

Incoming

Pigeonholes for staff and PhD students are located in Jubilee 245; student pigeonholes are in the student social space, G31. A porter distributes the post to the staff pigeonholes once in the morning and once in the afternoon. Any large packages that do not fit into the pigeonholes are left on the tables next to the pigeonhole unit. If these are not collected for a period of time after delivery, the package will be taken to the recipient's room.

For staff members on leave, pigeonholes will be emptied only when full and the post left in their office. Alternatively, the recipient can arrange for someone to collect their post from the pigeonhole.

Our postal address is:

School of Business, Management and Economics
Jubilee Building
University of Sussex
Brighton
BN1 9SL

Outgoing

The last collection for external post for same day posting is 2pm. Outgoing post should be placed in either the 'external' or 'internal' mail trays in the post room, Jubilee 245. Where possible, internal mail envelopes should be recycled. Mail for the University of Brighton can also be put in the internal post. Any outgoing mail should be marked in the top left hand corner of the envelope with the budget code provided to you by the School Administrator or Course Co-ordinator.

The front desk team in the School office should be contacted about any mail that requires special delivery instructions or courier service. You need to mark the envelope with special delivery instructions on the top right hand corner of the envelope (e.g. for recorded delivery). The package should be marked with the relevant delivery request and then be left with the porters.

If you are planning a large mail-shot, please give the School office staff at least two weeks' notice before the planned date of receipt. This will ensure sufficient time for ordering stationery, printing, collation and preparing for posting.

Stationery

Stationery (including headed paper and branded compliments slips) can be requested and collected from the School office. Requests for items that are not kept in stock should be made to the School office. Copies of suppliers' catalogues are available. Requests for non-standard items will require the approval of the School Administrator.

Business cards

To order business cards from the Print Unit, you will need to complete an online stationery order form. When you have submitted your order, the Print Unit will send you a confirmation of the cost and an enquiry reference number so that you can request a purchase order from the School office. The Print Unit will also send you a proof via email attachment for checking before they print your cards. The turnaround from order to receipt of the cards is usually five working days.

N.B. – please contact the Communications team (bmec.comms@sussex.ac.uk) if you wish to have the URL for your personal web profile shortened for aesthetic purposes (e.g. www.sussex.ac.uk/bmec/jsmith rather than www.sussex.ac.uk/bmec/people/department/person/000000).

Staff facilities

Location of unisex and disabled toilets

Ground floor G14*, G15*, G17, G18, G19*, G20*, G21, G40 (*located within the School office)
Level 1 123-130
Level 2 231-235, 237-238
Level 3 333-337, 339-340

Showers and lockers

Ground floor G41 (shower only)
Level 2 236
Level 3 338

Lockers are available via a returnable deposit of £1.

Kitchens

Ground floor G39
Level 1 133
Level 2 241, 251
Level 3 343, 355

There are also two social spaces for staff and PhD students: 244 and 349. Please be considerate when using communal facilities, including refrigerators, microwaves and toasters – do not take food or drink that belongs to your colleagues and clean up any mess!

Food and drink

Jubilee Café is located on the ground floor next to the entrance to the large lecture theatre and is open between 9am and 4pm. It offers a range of hot and cold food and drinks. There is also a vending machine serving drinks and snacks on the ground floor, as well as a number of other cafés around campus if you like variety!

Catering and hospitality for meetings and events can be arranged through Sussex Food. Menus and an order form are accessed by signing in to Sussex Food Hospitality, using your Sussex login and password.

Coffee mornings

School coffee mornings are held in Jubilee 244 at 10.30am on Tuesdays and Thursdays during term time. Tea, coffee and a selection of sweet treats and fruit are provided. All BMEc staff are welcome and encouraged to bring their own mugs to minimise waste.

Meeting rooms

The following are all bookable rooms in the Jubilee Building. You can provisionally book/check availability of the room using the Outlook Calendar Scheduling Assistant – type in "BMEc" in the "add rooms" select box and this will show all these rooms. Acceptance or otherwise will be confirmed by those who have ownership or editorial access. If you are having difficulties, please contact Reception: bmec@sussex.ac.uk

BMEc breakout space - open café area, ground floor

BMEc flexible workshop G30

BMEc DHoS Meeting Room 252

BMEc HoS Meeting Room 356

BMEc Associate Tutor Office 227

Jubilee G32, our research seminar space, can also be booked via the BMEc Research Support team: bmecresearchsupport@sussex.ac.uk

If you wish to use any other room that is currently vacant but not listed above, please check with the School Administrator. Please note that teaching spaces are booked via the online room booking system

Building issues

The procedure for reporting any building issues raised by staff (and students) is as follows:

i) Please report any building issues (for example, water leaks, windows and doors jamming open or shut, broken furniture, cleaning etc) to the team on the front reception desk.

ii) The reception team will deal with any issues that they are able to and refer other issues to our Executive Officer Daniel Barrow

iii) Daniel Barrow will liaise with the Building Manager Claire Penta on any issues that require support from Sussex Estates and Facilities (SEF), including those where interim measures may be required before complete repairs can be undertaken.

iv) Daniel Barrow will then follow-up with SEF on progress and will feed back to staff as necessary.

Lost property and insurance

Lost property may be handed in and collected at the Security office in York House, which is open 24 hours a day, seven days a week. Small items are also often left at the School office reception desk.

Personal belongings are not insured on University premises so please ensure your home insurance covers any valuables. If you travel abroad on University-related business, please complete an insurance form and submit at least 10 working days before your trip.

People, procedures and policies

Staff directory and web profiles

BMEc staff lists can be found on our internal website for the School Management Team, Professional Services, Business and Management faculty, Economics faculty and SPRU. These lists include names, roles, photos and links to individual web profile pages.

All staff are encouraged to set up and build a web profile. Your profile page is automatically created from details you supply to Human Resources, but you will need to keep your details updated via Sussex Direct as and when they change.

You can do this by logging in to Sussex Direct and selecting the Personal > Job tab, then editing and saving any amendments. Further guidance on updating your web profile is available on Study Direct.

Research staff may wish to follow this guide to creating web profiles published by the Doctoral School.

Staff photography

The School organises regular staff photography sessions with the University photographer, allowing staff access to a professional head shot for their web profile, staff photo galleries and for personal use.

Photo shoots are organised by the BMEc Communications team and usually take place once per term on the third floor stairwell in the middle of the building. All staff will be notified of photo shoots in advance.

Professional Services

Please refer to the A-Z of School service provisions if you are not sure which Professional Services team to approach for support: A-Z of service provision [DOCX 44.39KB]

School news and events

The BMEc Communications team produce a regular BMEc Bulletin, summarising recent news and forthcoming events. Each edition is emailed directly to all staff. News from the School and wider University is also available on the BMEc internal website.

The School holds a number of events throughout the year to which all staff and students are welcome. These include the BMEc Awards - an annual event held at the end of the summer term for all BMEc students and staff to come together and celebrate their successes over the previous academic year – and a School welcome event at the beginning of the autumn term with a guest speaker.

Staff are encouraged to check the School's events listings for other relevant events, which include several research seminar series running each week during term time:

Business and Management

Economics

SPRU

Social media

All staff are encouraged to follow the School on its various social media channels:

SPRU and UKTPO also have their own Twitter handles:

School and University committees

The Planning, Governance and Compliance (PGC) office coordinates a number of committees to ensure institutional business is handled efficiently and in accordance with the Statutes and Regulations of the University. A list of committees, committee timetable and other information can be found on the PGC site, including the Organisation of the University, a document setting out the approved terms of reference, composition and reporting lines of University committees and officerships.

To find your committee memberships on Sussex Direct, choose My Groups from the Admin menu.

Staff absence, study leave, expenses and external activities

School procedures and policies not included in this handbook may be found on the staff pages of the BMEc internal site.

Staff absence

For faculty, applications for leave of absence in term-time must be made to the Head of Department. It is assumed that members of faculty will not be absent from teaching without getting approval from their Head of Department and making suitable arrangements with their colleagues and students. For leave of absence of a whole term (or more), applications should be made a year in advance.

In case of absence through sickness, teaching staff should inform the School office on 01273 872668 so that arrangements can be made to let students and colleagues know. Professional Services staff should text ABSENT followed by their name to 07451 228628. Staff members unable to attend work should also inform their immediate line manager. For absences shorter than seven days, a self-certificate should be completed; for longer absences, a medical certificate is required. All certificates should be forwarded to the School Administrator.

For more information on sickness absence - including Return to Work forms and Sickness Absence Management Procedures - please see the Human Resources site

Study leave

There is a formal university study leave process that you need to follow if you want to apply for study leave. Before applying, faculty members are expected to discuss and negotiate any application with their peers, Subject Group Lead and the Head of Department. This will normally involve ensuring that teaching can be covered, often by taking on a little more in a preceding or following term.

Expenses and procurement


All financial transactions take place using Agresso, the University's online finance system. You may find it helpful to familiarise yourself with its key operations using the Agresso FAQs page. To login to Agresso, you'll need to request a password from rt-finance-agresso@sussex.ac.uk. Enter this password on the login page with your usual Sussex username and SU as the client.

Staff members will be reimbursed for expenses incurred in the course of your duties through Agresso. You need to complete the expense claim, which will be reviewed/approved by the Head of School, Head of Department, or other relevant budget holders. Once approved you will receive an email notifying you that your expense claim has been approved. You need to print out the claim form and send it to the Accounts Payable Team with your original receipts.

Information about submitting claims for personal expenses and entertaining is at the following links:

Agresso requires regular third party suppliers of goods and services to be placed on the approved suppliers list, to be able to raise a purchase order and process invoices. Please see the front desk team in the School office for support with this and information about one-off purchases. Training guides for using Agresso are available on the Finance site

External activities

Outside activities associated with teaching faculty posts include external examining, book reviewing, advising on publications, writing articles, and giving broadcasts and lectures. Special permission is not required to undertake such activities as long as they are not substantial. Permission is required for other external activities. For details, see paragraph 18 of the Conditions of Service of Faculty

Academic and pastoral support

Members of faculty will normally be appointed as an Academic Advisor to a group of students. Academic Advisors, along with School office staff, will often be the first port of call for students when they have queries or problems. Staff are not expected to act as counsellors or experts in all the workings of the University but it is important that you are aware of the range of student support services that the University offers so that students can be referred to the right place. If in doubt, the advisors in the Student Life Centre offer welfare support to students and can point you in the right direction if they cannot help.

Staff development

Induction

You will be invited to attend a School induction session shortly after joining the University as part of your wider staff induction programme. You will also be invited to a central staff welcome session with the Vice Chancellor within six months of your start date. A checklist is provided to ensure all staff receive a complete induction.

General staff development

The University runs a wide variety of training courses to support your development. You can book onto most courses via Sussex Direct, but must obtain permission from your line manager first.

Annual appraisal

You will have an annual appraisal during the summer with your line manager or other appropriate person. The University website has further information about our appraisal policy, guidelines and training

Health, safety and wellbeing

Health and Safety team

The School Health and Safety team is able to report any accidents or incidents and can also provide advice and information on any health and safety matters, including first aid, fire wardens, display screen equipment (DSE) assessments etc.

To contact the team, please email bmec.healthandsafety@sussex.ac.uk or speak to one of the team members:

Daniel Barrow (ext. 3601)
Lisa Brown (3661)
Heidi Davies (7680)
Kitz Gulliford (2668)
Rachel Jenkyns (2668)

Emergency procedure

For all emergencies (first aid, fire, spillages and emergency services), call the Emergency Hotline on extension 3333 or (01273) 873333 if using a mobile or external line. It is important that this number is used (do not dial 999) as the University's Security team will meet emergency services at the entrance to campus and guide them directly to the relevant location. The Health, Safety and Wellbeing site offers further information about the University's emergency procedures.

Display screen equipment

Display screen equipment (DSE) is a device or equipment that has an alphanumeric or graphic display screen. It includes both conventional display screens (e.g. desktop PC monitors) and those used in emerging technologies, such as laptops, touch screens and other similar devices.

If your computer workstation is not set up correctly, it could lead to adverse health effects, including aching limbs, back pain, fatigue and eye strain (see below). For further information and a DSE self-assessment tool, please refer to the University's guidance on DSE and DSE policy.

Eyesight testing

Eye health is very important and if not managed can lead to both short and long term health conditions, including increased eye strain and headaches. All staff identified as DSE users will have access to a free bi-annual eye test. Please follow the guidelines set out by the Health, Safety and Wellbeing office to request an eye test.

Mental wellbeing, stress management and mindfulness

Mental health issues can be a major cause of occupational ill health and loss of productivity. Work-related stress and associated illnesses can result in sickness absence, reduced motivation and performance, and a possible increase in accidents due to human error.

The University has a stress management policy that seeks to address this issue and reduce potential causes and symptoms of mental health issues within the control of the institution. The policy also includes guidance on recognising, managing and preventing stress. If you're affected by problems at work or at home, you are encouraged to discuss them with your line manager. Your manager will treat the matter in confidence whenever possible and can refer you to Occupational Health if needed. If you prefer not to talk to your manager, you may also contact Occupational Health directly at occupationalhealth@sussex.ac.uk or extension 7255.

Mindfulness - the use of meditation or contemplative techniques - can help with building resilience and maintaining mental wellbeing. Mindfulness sessions for BMEc staff take place throughout term time on Tuesdays at 1-1.30pm, usually in Jubilee G30. The sessions are run by the University chaplain Reverend Chris McDermott and all are welcome to attend. Sessions for all University staff also take place throughout the week in the Meeting House if you cannot attend the BMEc sessions.

Other health, safety and wellbeing resources

Please also ensure you regularly check the Health and Safety notice boards located at the entrance to the Jubilee Building.