We provide leadership in the development and dissemination of sustainable business and management practice, informed by sound economic logic and a deep understanding of policy making. The School is comprised of three academic departments, as well as the University's International Summer School.
Professor Steven McGuire
Head of School
Want to study a Masters with the School of Business, Management and Economics? Join our webinars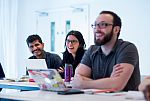 Have questions about our postgraduate courses, the application process or life at Sussex?
We are holding a series of webinars where you can have your questions answered by members of staff and current Masters students at a time that suits you.
Contact us
School of Business, Management and Economics
Room G08, Jubilee Building
University of Sussex
Brighton, BN1 9SL
United Kingdom
E bmec@sussex.ac.uk
T +44 (0)1273 872668 (ext. 2668)
School internal website