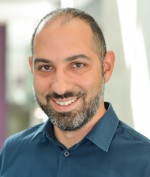 Dr
Andreas Kornelakis
Biography
Andreas Kornelakis is a Visiting Senior Research Fellow at the University of Sussex and a Senior Lecturer in International Management at King's College London. He holds a PhD in European Political Economy (LSE) and an MSc in International Employment Relations & HR Management with Distinction (LSE). He has been involved in large multi-partner European projects on Reconciling Work and Welfare in Europe (RECWOWE) and on the Dynamics of National Employment Models (DYNAMO). He has gained scholarships and grants from Propondis Foundation, Bodossaki Foundation, the EU, and the National Bank of Greece.
His research has been published in highly regarded academic journals such as: British Journal of Industrial Relations, Work Employment & Society, Business History, European Journal of Industrial Relations, Economic and Industrial Democracy, etc. His PhD Thesis was runner-up for the Labor History Dissertation Prize and he has also obtained several prizes and awards including the Mike Rose Prize for Best Paper at the 2010 WES Conference. Andreas is currently an Editorial Board Member of BSA's journal Work, Employment & Society. Memberships of learned societies include: the Society for the Advancement of Socio-Economics (SASE), the European Group for Organizational Studies (EGOS), the British Universities Industrial Relations Association (BUIRA), and the British Sociological Association (BSA).
Informal inquiries for PhD/doctoral supervision are most welcome in the following broad areas: comparative HRM; comparative business systems and political economy; employment relations. Particular topics may include: employee voice; pay determination and reward systems; new forms of flexibility at work; industrial relations in multinational enterprises; human capital/skills; high performance work systems; job quality and workplace innovation.