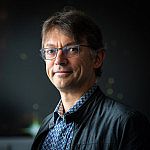 Prof
Seb Oliver
Post:
Professor of Astrophysics (Astronomy Centre, Physics and Astronomy)
Other posts:
Lead Academic (Data Intensive Science Centre at the University of Sussex)
Location:
PEVENSEY 3 4C22
Email:
S.Oliver@sussex.ac.uk

Telephone numbers
Internal:
8852
UK:
01273 678852
International:
+44 1273 678852

Research expertise:
download vCarddownload vCard to your mobile
Biography
Employment
2009 - Present: Professor of Astrophysics, University of Sussex
2003 - 2009: Reader in Astronomy, University of Sussex
2000 - 2003: Lecturer in Astronomy, University of Sussex
1993 - 1999: Research Associate, Imperial College, London
1993 - 1993: Research Associate, Queen Mary & Westfield College, London
Education
1989 - 1993: Ph.D. in Astrophysics, University of London (Queen Mary & Westfield College)
1986 - 1989: B.A. (Hons) Class 2:1 in Physics, University of Oxford (Balliol College)
1978 - 1985: Monmouth School, Monmouth, Gwent
1974 - 1978: Pembridge Primary School, Pembridge, Hereford & Worcs.
Research Interests
My research interests are in the menus which you can hopefully see at the left hand side of this page
Role
Director Data Intensive Science Centre in SEPnet (DISCnet)
Director Data Intensive Science Centre at University of Sussex (DISCUS)
Director of Research & Knowledge Exchange, School of Mathematical & Physical Sciences
Director of Research & Knowledge Exchange, Department of Physics and Astronomy
Coordinator of the Herschel Extragalactic Legacy Survey (HELP)
Coordinator of Herschel Multi-Tiered Extragalactic Survey (HerMES)
Data Science Champion for the STFC Food Network +
Community and Business
I and my research team have a lot of experience in data analaysis and modeling techniques. This includes image and signal-processing, object detection, Bayesian inference and machine learning techniques.
We are applying these techniques to a number of different areas inparticular in health and biosciences. Here are a few examples:
Bayesian probalistic matching to link patient records in the European Cystic Fibrosis Society patient registry. This work is published in PLOS ONE. My article "How astrophysics could transform the treatment of cystic fibrosis and other rare diseases" in The Conversation is aimed to be accessible.
Application of Gaussian Processes to classification of Altzheimer's and Mild Cognitive Impairment in fMRI images, published in Neuroimage
Microscopy imaging of nano-scale protein structures published in PNAS
Attempting to create a predictive model which will help general practitioners (GPs) identify patients at high risk of dementia in ASTRODEM
Using predictive analytics (Gaussian Processes and Granger Causality) on Earth Observation data to attempt to forecast disasters for pastoral livelihoods in Kenya in AstroCast
Working with the Met Office to build an empirical, data-driven model of crop yield as a function of temperature and precipitation to help forecast the possible impact of changes in climate in FACYNation.
These projects and more are carried out through DISCUS the Data Intensive Science Centre at the University of Sussex (which I direct). DISCUS has a wide set of expertise.
I am Director of a multi-institution centre for doctoral training DISCnet in which we arrange placements of talented PhD students in local, nationional and international business and other partners.