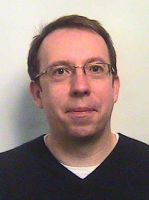 Dr
Robert E Smith
Biography
I work in the field of cosmology, with a particular interest in large-scale structure in the Universe. I started at the University of Sussex in 2013 and am currently a senionr Lecturer in Physics and Astronomy. Prior to that I studied for my PhD at the University of Edinburgh. I then undertook postdoctoral positions at the University of Nottingham, University of Pennsylania, University of Zurich and also the Max-Planck instutute for Astrophysics.
Whist at Sussex I have lectured on Cosmology and Mathematical Methods for Physicists 1.
Over the years I have written various publications on various topics in cosmology.
For a complete list of my publications see: Publications
Role
Undergraduate Admissions Tutor;
Organiser of the Open Days and Applicant Visit Days;
Convenor for Introduction to Cosmology.