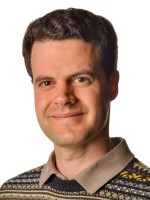 Dr
Christian Byrnes
Biography
I made all of my formal Education in the UK, starting with the Rudolf Steiner school South Devon, moving on to Exeter College for A-levels, then Cambridge to study maths including part III, and finally the Institute of Cosmology and Gravitation (ICG), Portsmouth for my PhD.
After this I was restless and spent the next five years abroad, four of them in Germany, divided between Heidelberg (straight out of a Hansel and Gretel fairy tale) and Bielefeld, famous only for not existing! My final year abroad was at CERN, the worlds largest and most powerful laboratory, although my research remained firmly above ground, with a view of Mt Blanc.
From October 2012, I have been a Royal Society University Research Fellow in Sussex University, researching cosmology (mainly how to test theories of the early universe).
You may watch a brief video about my research in Sussex Uni. It is not technical.
Role
I am a Royal Society Research fellow (on a 5 year fellowship, now extended by 3 years to last until the end of December 2019) and proleptic senior lecturer. I am a cosmologist specialising in the early universe and primordial black holes.