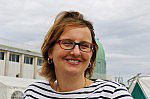 Prof
Kathy Romer
Post:
Professor of Astrophysics (Astronomy Centre, Physics and Astronomy)
Other posts:
Director of Student Experience (School of Mathematical and Physical Sciences)
Location:
PEVENSEY 3 4C23 post to be delivered to Pevensey
Email:
Romer@sussex.ac.uk

Telephone numbers
Internal:
7478
UK:
01273 877478
International:
+44 1273 877478

Research expertise:
download vCarddownload vCard to your mobile
Biography
A copy of my CV is available from here
Work history:
Professor at Sussex (2016)
Reader at Sussex (2013)
Senior Lectureship at Sussex (2007)
Lectureship at Sussex (2004)
Tenure Track Faculty position Carnegie Mellon (2000)
Research Faculty position Carnegie Mellon (1999)
Postdoc Carnegie Mellon University (1997)
Postdoc Northwestern University (1995)
Predoc Northwestern University (1994)
PhD The Large Scale Distribution of X-ray Clusters of Galaxies University of Edinburgh (1995)
BSc Physics with Astrophysics (First Class Honours) University of Manchester (1990)
Biography suitable for public engagement activitiy introductions:
Professor Kathy Romer: Originally from Tyneside, Kathy got her Bsc in Physics wth Astrophysics from the University of Manchester in 1990 and her PhD in Astrophysics from the University of Edinburgh in 1995. She then moved to the USA and was a postdoctoral researcher at Northwestern University and at Carnegie Mellon University (CMU). After a short time as a research professor at CMU, she secured a tenure track position there. She moved back to the UK in 2004 to take up a lectureship at the University of Sussex. She is still at Sussex and is now Professor of Astrophysics, Director of the Sussex Astronomy Centre, and a Public Engagement Fellow for the Science and Technology Research Council. Kathy is a world expert in the discovery and exploitation of X-ray clusters of galaxies. She is principle investigator of the XMM Cluster Survey collaboration and is coordinating the cluster research for the international Dark Energy Survey project.
Role
Professor of Astrophysics
Director of Student Experience (MPS)
Undergraduate Careers Tutor (Physics and Astronomy)
Convenor of Y2 careers sub-module (part of Scientific Computing)
Convenor of the BSc and MPhys final year project modules
Community and Business
Frequent speaker at public outreach events: Schools; Science Festivals; Cafe Scientifique; Skeptics in a Pub; Astronomy Societies etc.
Radio appearances: BBC Sussex and University Nottingham Radio.
TV appearances: BBC Horizon and BBC South East.
Newspaper/Magazines: Financial Times; Guardian; Viva Lewes; UK Space Magazine; Astronomy Now; Brighton Argus
Online: Guardian, BBC