Study with one of the top Art History departments in the UK, and join our thriving, dynamic and friendly community of world-leading researchers and gifted students. Art History at Sussex was ranked 12th in the UK by the Guardian University Guide 2017.
Key facts about Art History at Sussex
outstanding research-led teaching - learn from experts who are renowned in their field, and benefit from teaching informed by research that has a real impact in the arts industry and beyond. We encourage you to challenge accepted thinking, engage critically with art and think deeply about visual culture. Study at Sussex and find out why our art history students gave us 100% for overall satisfaction in the National Student Survey 2015
a degree that matters - we build our courses on the conviction that Art History can really matter: to society, to politics and to culture. By engaging with the past and providing new insights into the present, you will think differently about the future. Art History at Sussex provides a space to think imaginatively about visual and material culture in the broadest sense and across many contexts – studying photography, paintings, popular culture, conceptual and contemporary art, architecture, the decorative arts and fashion
flexibility - you can choose from a wide range of innovative topics and tailor your degree to your own interests. Our interdisciplinary approach means that you can also explore links between different subject areas
trips and fieldwork - experience art culture across the world. You take a study trip to Rome in your second year, as well as many other trips and visits throughout your course, so that you can gain practical skills, experience and insight into the arts industry. We work with a variety of museums and galleries, allowing 'behind the scenes' access for our students
exceptional links with museums, galleries and the cultural industries - such as the Tate, the Victoria and Albert Museum and the National Media Museum
excellent career prospects - graduate with the skills and knowledge to succeed in a wide range of careers, from curating exhibitions to being head of digital media at a fashion label for example. Art History is a highly vocational subject and 91% of our undergraduate students were in work or further study six months after graduating (Destinations of Leavers from Higher Education Survey 2015).
transferable skills - on our Art History degrees, you gain a wide variety of skills that employers look for, such as creative problem solving, leadership and presentation skills. You will graduate with a portfolio of work demonstrating the diverse skills you have developed.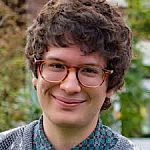 'Sussex encouraged a way of looking that questioned and challenged every statement, assumption and situation. The friendly and approachable academics fostered a space for debate, discussion and independent thought.
'The Art History Department felt like a home. Art History at Sussex taught me to examine culture in a way I never had before.'
Edwin Coomasaru
English and Art History BA graduate
Director at the International New Media Gallery
Contact us
For an informal chat about our degrees, contact our Admissions Tutor, Dr Joanna Pawlik: