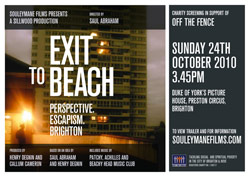 Saul Abraham, final year Art History student, along with English student Callum Cameron and International Relations student Henry Degnin, has produced a short film exploring the idea of 'escape' in Brighton.
Synopsis
When darkness falls on our quiet terraced streets, a darker, seedier side to the city emerges; drug dealing, prostitution and homelessness are aspects of Brighton that can all be encountered when sought after. With this as a backdrop, Saul Abraham, Callum Cameron and Henry Degnin took it upon themselves to conduct an investigation into the socio-cultural make up of our quaint seaside town.
Brighton is a city that, to a degree, is built upon a reputation substantiated by façades. For the majority of people who do not actually permanently reside here, it is largely observed as a place of escape. Whether this means a weekend soaked in alcohol, a short break during the summer, or, more poignantly, a place to come and search for a new existence in a new environment, it is easy to get 'lost.' It is this concept of escape that is so prominent in Brighton – twinned with the drab inclement seaside weather of the dark winter months – that really inspired them to document a side to the city that can be so easily surpassed.
Screening
Exit to Beach was screened at the Duke of York's Picturehouse on Sunday 24th October at 3.4pm. All proceeds from the screening went to Brighton's Homeless Charity, 'Off the Fence'.
For more information...
www.exittobeach.eventbrite.com/
Facebook: http://www.facebook.com/group.php?gid=142813845753536
Twitter: http://api.twitter.com/exittobeach