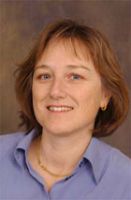 Prof
Jane Cowan
Biography
Jane Cowan received a BA summa cum laude in Anthropology at Macalester College in Minnesota (1977), and an MA (1982) and PhD (1988) in Sociocultural Anthropology and Ethnomusicology from Indiana University, Bloomington. She came to Sussex as a Lecturer in 1991, became Senior Lecturer in 2000, Reader in 2003 and was promoted to Professor in 2004. Jane was Head of the Anthropology Department from 2002-2005. She currently sits on the University Council as a member elected by the academic staff of the university.
Beyond Sussex, Jane is Associate Editor of the journal, Anthropological Theory. From 2005-2008 she served on the ESRC Virtual College; as of March 2010, she is a Member of the ESRC Peer Review College. She has served as external examiner for both undergraduate and postgraduate programmes at the LSE (anthropology), University of Exeter (human rights) and University of Wales, Glamorgan (women's studies).
Jane was funded in academic year 2010-2011 by a British Academy Research Development Award (BARDA) to undertake an anthropological and historical study of the Universal Periodic Review, a new human rights monitoring mechanism of the reformed Human Rights Council in Geneva.
Between April 2011 and July 2014, in view of her international profile in anthropology and her expertise on Greece, Jane served on the Sectoral Committee on the Social Sciences for the Greek National Council on Research and Technology, the main advisory body to the Greek Ministry of Education, as an academic expert on social anthropology. Jane also sits on numerous appointing and promotion committees at eight Greek universities, and in November 2013 she served on an external evaluation panel in a week-long evaluation of the Department of Social Anthropology and History at the University of the Aegean, Mytilene, Lesvos.
In November 2013, she was appointed to the Scientific Committee of the Swiss Network for International Studies (SNIS). A major duty is to serve on the jury which disburses 2 million Swiss francs of research funds for applied research that has a high degree of relevance for international organisations. SNIS is a funding and networking agency based in Geneva that promotes academic international research across Switzerland.