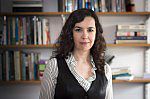 Dr
Demet Dinler
Biography
I hold undergraduate degrees in Political Science and Sociology from Middle East Technical University, Ankara, Turkey. I obtained my MSc and PhD in Development Studies from the School of Oriental and African Studies (SOAS), University of London. Before my appointment to Sussex for a two-year research fellowship, I taught critical ethnography and political economy at Istanbul Bilgi University. I also worked as strategic researcher and coordinator of the UPS workers' organising project for the International Transport Workers' Federation (ITF) and did consultancy work for global trade union federations and NGOs on the subject of trade union empowerment.
My doctoral thesis was a multi-sited investigation of the rules and regulations in the global recycling market starting from waste pickers and recycling traders up to the brokers and managers at the London Metal Exchange, which sets the global price for scrap metal. My current research project, "Governing Nature and Market: Farmers, Traders and Experts in the Cut Flower Industry" funded by Helena Normanton Fellowship by the University of Sussex investigates the journey of a cut flower from the greenhouses/open fields throughout the global supply chain. Via an ethnographic analysis of lab technicians, middlemen, auctioneers, export traders, small-scale family farmers and contract farmers, I explore how actors learn, imitate, transmit, exchange, enforce and resist specific types of knowledge and techniques in producing, testing, trading cut flowers, flower bulbs and seeds and what their implications are for development.
I have been involved in various forms of public engagement and activism during my life. I was an organiser/trainer for the Association of Waste Pickers, Union of Solidarity for Domestic Workers, Association of Construction Workers, which were all devoted to organise informal, precarious labour in Turkey. I designed a financial literacy programme for women's cooperatives and was involved in the building of a workers' textile cooperative in Istanbul. My essays on politics, strategy and organising have been published in the Turkish magazines Express and Ayrıntı.
Role
I am Lecturer in Social Anthropology at the Department of Anthropology, School of Global Studies.