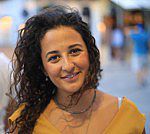 Dr
Idil Akinci
Biography
My scholarly interests lie in the construction and maintenance of nation-states and national identities in multicultural societies. I am particularly interested in the relation between top-down and bottom-up constructions and narratives of the nation, nationalism and national identities.
I completed my PhD in Migration Studies with an unconditional pass in September 2018, from the University of Sussex, funded by the Chancellor's International Research Excellence Scheme. My ethnographic doctoral research investigated the bottom-up constructions of national identity by Arab migrant communities and Emirati citizens in Dubai. By showing, how, like all national identities, the Emirati one, is imagined, invented and constructed through various boundary making practices and performances, undertaken by the state, the citizens, as well as migrants, my research challenged the literary tendency to treat the Gulf societies as 'sociological exceptions' and thus made a theoretical and empirical contribution to the emerging field of Gulf migration studies.
Role
School Tutor
Qualifications
2018 PhD in Migration Studies, University of Sussex
2012-2013 MA in Sociology, City, University of London
2004-2008 BA in Public Relations, Faculty of Communication, University of Ankara, Turkey
Activities
Publications
Akinci, I. (2019): Culture in the 'Politics of Identity': Conceptions of national identity and citizenship among second generation non-Gulf Arab migrants in Dubai, Journal of Ethnic and Migration Studies
Akinci, I. (forthcoming) Researching identity in the Gulf States. In L. Charles et al, Researching the Middle East: Cultural, Conceptual, Theoretical and Practical Issues, Edinburgh: Edinburgh University Press
Akinci, I. (2018). Why more research on the bottom-up constructions of national identity in the Gulf states is important, LSE Middle East Blog
Akinci, I. (2018). Being Emirati: national identity construction among young Dubai citizens and second-generation Arab migrants in Dubai. Doctoral thesis (PhD), University of Sussex.
Akinci, I. (2018). Everyday Conversions: Islam, Domestic Work, and South Asian Migrant Women in Kuwait A. Ahmad: Duke University Press 2017. Ethnic and Racial Studies, 40(8), pp.1341-1343.
Akinci, I. (2018). The multiple roots of Emiratiness: the cosmopolitan history of Emirati society: Open Democracy
Akinci, I. (2016). Migrant Dubai: low wage workers and the construction of a global city. L. Kathiravelu: Palgrave Macmillan, 2016. Ethnic and Racial Studies, 40(8), pp.1341-1343.
Akinci, I. (2016). Impossible Citizens: Dubai's Indian Diaspora N. Vora Durham and London: Duke University Press, 2013. The Australian Journal of Anthropology, 27(1), pp.131-132.
Conference Paper Presentations
| | |
| --- | --- |
| LSE Middle Centre Workshop: National Identity and the Emirati State | October 2018 |
Paper: The limits of state driven identity promotions: Tiers of national identity and construction sites of boundaries among young Emirati citizens
| | |
| --- | --- |
| Gulf Research Meeting, Cambridge University | August 2018 |
Paper: The role of Arabic in the construction of Emirati national identity by young citizens
| | |
| --- | --- |
| IMISCOE, Erasmus University, Rotterdam | November 2017 |
Paper: Rethinking the category of 'refugee': A case study of Syrian migrants from the UAE
| | |
| --- | --- |
| West Asia Workshop, University of Sussex | November 2017 |
Paper: Politics of Belonging in the Cosmopolitan Persian Gulf, a case study from Dubai
| | |
| --- | --- |
| Development, Stability and Refugee Crisis, 17th Doha Forum, Qatar | May 2017 |
Paper: A different kind of refugee: A study of Syrian migrants from the UAE seeking citizenship in Europe
| | |
| --- | --- |
| Migration in a Turbulent World, Doha Institute, Qatar | November 2016 |
Paper: Belonging, National Identity and the new multiculturalism: a case study from Dubai
| | |
| --- | --- |
| Researching the Middle East Conference, Exeter University | June 2015 |
Paper: Experiences from the field in Dubai: researching young Emirati citizens
| | |
| --- | --- |
| WOCMES, Annual Conference, METU, Ankara | August 2014 |
Paper: Everyday experiences of young South Asian migrants in Dubai
| | |
| --- | --- |
| BRISMES, Annual Conference, University of Sussex | June 2014 |
Paper: Identity and Belonging among second generation South Asian migrants in Dubai