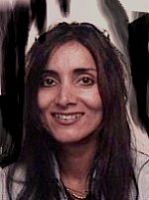 Prof
Raminder Kaur
Post:
Professor of Anthropology & Cultural Studies (Anthropology, International Development)
Other posts:
Professor of Anthropology and Cultural Studies (Sussex Centre for Cultural Studies)
Location:
ARTS C C239
Email:
rk39@sussex.ac.uk

Telephone numbers
Internal:
7667
UK:
01273 877667
International:
+44 1273 877667

Research expertise:

Aesthetics and Politics

,

censorship

,

Conflict and violence

,

creative arts

,

cultural diversity

,

culture and health

,

cultures of sustainability

,

diaspora

,

digital anthropology

,

environmental movements

,

gender

,

health risk perceptions

,

heritage

,

Human Rights

,

indian cinema

,

Media and international development

,

migration studies

,

nuclear power and politics

,

public culture

,

public engagement

,

race and ethnicity

,

religion and media

,

Religion and ritual

,

Science And Technology Studies

,

South Asia

,

Visual Anthropology and Media

,

visual cultures

download vCarddownload vCard to your mobile
Biography
Raminder Kaur is Professor of Anthropology and Cultural Studies in the Departments of Anthropology and International Development. She was awarded her BA (Combined Hons) in Social Anthropology and Art and Archaeology and her PhD at SOAS, University of London. She has held postdoctoral research positions at Brunel University (ESRC funded project 'Reconsidering Ethnicity'), University of East Anglia (Getty Research Fellow) and at the University of Manchester (Simon-Marks Fellow). She was previously a Lecturer at the University of Manchester.
Community and Business
Raminder served on the Mayor's Commission for Asian and African Heritage (MCAAH) and was a member of the subsequent Heritage Diversity Task Force at the Greater London Authority. She co-authored the MCAAH report, Delivering Shared Heritage, which received the Eurocities Award for Cooperation in Gdansk, in 2007. (Eurocities is a membership network of major European cities that brings together local governments of more than 130 large cities).
She was a Trustee for Museums, Libraries and Archives London and Honorary Treasurer for the Association for Social Anthropologists (ASA) as well as ASA representative for the World Council of Anthropological Associations (WCAA). She was Chair of the WCAA Ethics Taskforce and a member of the WCAA Advocacy and Outreach Taskforce.
She is Co-Director of the Sussex Asia Centre and formerly Director of Doctoral Studies and interim Director of Equality, Diversity and Inclusion at the Sussex School of Global Studies. She collaborated with others at the School to co-ordinate programme of artists, staff and students work for Global Voices at WOMAD 2015 and 2016.

She is a Fellow of the RSA (Royal Society for the encouragement of the Arts, Manufactures and Commerce) to enrich society through ideas and action, and the RAI (Royal Anthropological Institute) where she serves as a member of the RAI Film Committee.
Raminder combines her research interests with creative activities. She was Artistic Director of the theatre group, Chandica Arts, and is currently Chair of the arts organisation, Aldaterra Projects and Artistic Director of Sohaya Visions.
With Tasun Jasani, she has made a film, Dishoom India, based on her research on comics books and youth cultures with Saif Eqbal. It was premiered at The Steps in the RSA and Pinter Studio, QMUL.
She has written several scripts for theatre productions and workshops with diverse communities. Terror is based on the brave stand of Faraaz Ayaaz Hossain against violent insurgents in a Dhaka cafe in July 2016. Her play, Silent Sisters, is based on research including interviews and workshops with British Asians about the partition of the South Asian subcontinent in 1947, migration and refugees.
Silent Sisters was performed again alongside a new play, Brothers Unhinged, in November 2017 to focus on the partition of both Punjab and Bengal, and their legacies in 1980s Britain.
An exhibition on the partition plays alongside the stories, photographs, and objects of British Asian migrants with a history of partition in their families was arranged at the Crawley Tree Museum in June 2018.
Raminder's play Bodies is based on people's stories and experiences of cancer in Sussex. The psychodrama combines tragedy with comedy, myth with reality.
Mishti Gals is based on the creative lives of single British Asian women in East London and actively involved young people in production outputs as part of A Season of Bangla Drama.
Other projects are announced on Twitter @SohayaV

She wrote Fair's (Not) Fair! when working on Ben Rogaly's AHRC Fellowship, Places for All?, which was based on about 100 oral history transcripts collated by Ben Rogaly and Kaveri Qureshi in Peterborough.

She has also made three short films based on the workshops, rehearsals and performances with young people and professional actors:
(1) Fun Fear about kaleidoscopic experiences and stories about the funfair.
(2) Peopleborough - an audio-visual stroll through people's lives, histories and interracial relations in Peterborough.
(3) Turning the Mirror about dreams and reflections on birth, death, trouble and peace.
Her other plays produced by Chandica Arts include Draupadi's Robes, Bullets through the Golden Stream, Futures, Spirit of the Age, and Pregnant Pauses. Enig-Mas was based on the work of the revolutionary writer and musician, Kazi Nazrul Islam, and produced by Mukul and Ghetto Tigers.