How will I learn?
Initially, modules are taught by lectures and classes, giving you a structured approach to American literature, history and culture from the colonial era through the Nineteenth century. As you progress, more teaching is conducted in seminars, so you have scope to demonstrate your oral and presentation skills, as well as your ability to work in groups. You spend your third year at a university in the United States or Canada, where a variety of teaching methods and tests are used. Back at Sussex in your final year you are taught in small seminar groups and through individual supervision.
Assessment includes coursework, short essays, take-away papers, and unseen exams in Years 1 and 2, with longer essays and dissertations in your final year to reflect your increasing ability to work independently and to design your own projects.
As you become more experienced, your marks will carry more weight. You must pass your first year to progress into Year 2. All the grades you receive for work done in Years 2, 3 and 4 will count towards your final degree. Marks in the final year are more heavily weighted than in Years 2 and 3.
What will I learn?
knowledge of the US in the context of the Americas across a range of topics, genres, and historical periods
an appreciation and understanding of the ways in which different fields of study combine to give a deeper understanding of American culture, history, literature and society
first-hand experience of living and studying in North America
the ability to recognise and reflect on ideas from other cultures and periods, and to analyse texts within their historical, social and cultural context
the skills required to think critically and to communicate effectively what you have learned.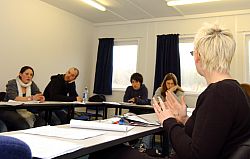 You will learn to analyse and reflect critically on a range of forms and genres, from poetry, drama and the novel to film and other forms of popular culture. You will understand the contexts in which literary texts and other forms of cultural expression are produced and received, as well as different theories and critical methods that you can use in your reading.
You will also gain knowledge of American history from colonial times through to the present day. You will learn to use different historical methods and develop awareness of historical specialisms (i.e. social, political, economic, gender, oral, and intellectual histories). Most of all, you will come to an understanding of how the US evolved to become not only the world's sole superpower but also one of the most vibrant and fascinating countries on the planet.