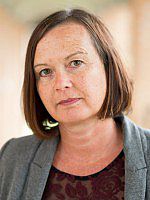 Dr
Sue Currell
Biography
Career History
2012 Reader in American Literature; 2004-2012 Lecturer/Senior Lecturer in American Literature, Sussex University; 2001-03 Leverhulme Postdoctoral Research Fellow, Department of American and Canadian Studies, Nottingham University; 2001 DPhil American Studies, Sussex University, England; 1995 MA in American Studies, University of Maryland, College Park, USA; 1992 BA Hons American Studies (Lit) First Class, Sussex University, England.
Awards Received Leverhulme Research Fellowship 2011-12; Arts and Humanities Research Council Award 2008; Choice outstanding academic title 2006 awarded to The March of Spare Time; Leverhulme Postdoctoral Fellowship (2001-3); British Academy Scholarship for Postgraduate study (1997-2001); Cunliffe Centre Scholarship (1997); Fulbright Travel Scholarship (1994); University of Maryland Graduate Fellowship (1993-1995).
Professional Memberships American Studies Association, British Association of American Studies.
Chair of the British Association for American Studies, 2013-2016
Role
Reader in American Literature; Chair of the British Association for American Studies 2013-2016: http://www.baas.ac.uk/; Editorial Board Journal of American Studies