The University of Sussex has an illustrious history of research and teaching on the United States of America (USA). Our international faculty have published award-winning books and articles in the United States and Europe on the history, literature, and culture of the Americas.
Our research is far-ranging, covering fields as diverse as the history of Louisiana sugar plantations and New York punk rock; Andy Warhol's films and Walt Whitman's poetry; Transcendental literature and the Harlem Renaissance; American modernism and postmodernism; the American Civil War and the Civil Rights movement. Since the early 1960s, students have undertaken BA American Studies degrees; this area of research and teaching encapsulates the core Sussex commitment to interdisciplinary approaches to research and teaching.
The Sussex Centre for American Studies (SCAS) builds upon these excellent foundations. It serves as an epicentre for promoting and disseminating interdisciplinary and disciplinary research and enhances the transatlantic reputation already enjoyed by Sussex. It draws on strengths in American Studies and broader interests in the USA across the University to build a distinctive position for Sussex in this area. It coordinates all teaching and research activities related to the study of the USA, and delivers a coherent but diverse programme of public engagement. The latter advances Sussex's leading reputation in the field through public lectures/debates, workshops, collaborative grants, publications, broadcast and social media, and by interacting with partner institutions in the USA.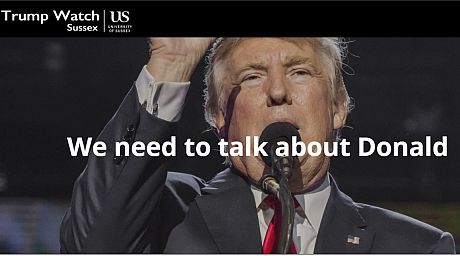 In Trump Watch Sussex podcasts, faculty from the Sussex Centre for American Studies talk to a range of experts and commentators about Trump. We interview specialists from UK and US universities, journalists, broadcasters and students on the key issues of this presidency: climate change, populism, migration, links with Russia, female reproductive rights, black lives matter, reality TV, the special relationship, and so much more.

Rebecca Harding, a current PhD student at Sussex, is running a reading group on Infinite Jest by David Foster Wallace. They have a blog where you can read about their progress and how to get involved.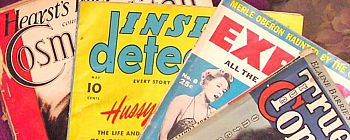 "American into Periodical Studies" symposium is organised by NAPS (the Network of American Periodical Studies), a research network fostering collaboration and dialogue between American Studies and Periodical Studies. This event is co-hosted and supported by the Eccles Centre for American Studies at the British Library, the British Association for American Studies, the University of Sussex's Centre for American Studies and Centre for Modernist Studies and Northumbria University. The Network of American Periodical Studies (NAPS) is a new research initiative that aims to bring together scholars working on American periodicals (magazines, newspapers and other periodical publications) from any historical period.