Hardship: Supporting students who find themselves in financial difficulty through no fault of their own, and who may not be able to complete their course as a result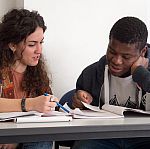 Unexpected circumstances can affect anyone. For our students, this can mean having to give up a university education if, for example, a family member falls ill and can no longer support them.

Thanks to the overwhelming generosity of Sussex Fund supporters, we have been able to help a substantial number of UK and international students to continue with their studies, overcoming difficulties that might otherwise have forced them to cease their education. By making a gift to the Sussex Fund, you are helping to alleviate financial problems and reduce anxiety and stress.
Around 70 Sussex Fund hardship awards are made each year, averaging at around £500 per award. All applications are assessed by the Student Life Centre to ensure that need is genuine.
"Like many other students, I worked part-time to support myself during term-time and I was planning on working full-time during the winter vacation. Unfortunately, my plans fell through and I found myself in unexpected financial difficulty. Receiving this award not only eased my stress, it gave me much-needed buffer time to refocus my energy on my studies and to find alternative employment."
Nikita - Hardship Fund recipient
Whatever the reason, a small emergency grant from the Sussex Fund means that students will be able to continue their university education and follow their dreams of going out and making a difference in the world.
Please make a gift to the Sussex Fund via our secure web page today and help us continue to support students in crisis.

FAQs
How is the money raised?

Gifts are made to the Sussex Fund by our alumni and friends of the University of Sussex whom we contact by email, letter and telephone. Our telephone appeal is especially popular as it gives people an opportunity to hear from current students and to pass on their memories of Sussex.

Does the University qualify for Gift Aid?

Yes, as an exempt charity the University can claim back 25p for every pound you give, as long as you are a UK taxpayer. You can find more information about Gift Aid here.

Will my gift be acknowledged?

All supporters will be thanked in our Roll of Donors and will receive a regular e-newsletter, unless we are instructed otherwise.

Are one-off gifts more useful, or does the University prefer regular donations?

We are grateful for all support that we receive, although regular donations do allow us to plan for the future more effectively, safe in the knowledge that we have a reliable source of income that we can depend on. This allows the Sussex Fund to be more ambitious with the initiatives that we support, which in turn benefits our students.