Podoconiosis (podo) is a form of elephantiasis that causes devastating swelling in the legs and feet of sufferers. Most people have never heard of this disease, but it affects millions of people around the world. Thanks to a grant from the Big Lottery Fund, University of Sussex has been researching podo and treating patients in Ethiopia, where almost half the population is at risk. We now know the disease is entirely preventable and treatable and, with your help, we can eliminate this disease within our lifetimes.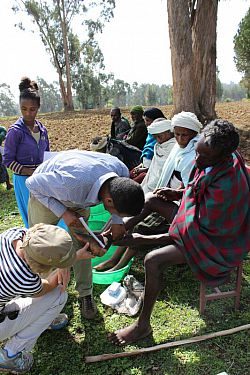 Brighton and Sussex Medical School is the global hub for podoconiosis research. The Preventing Podo campaign was launched to turn our ground-breaking research into practical action, improving the lives of some of the world's poorest and most disadvantaged people. So far, with the help of the Sussex community, we have helped to:
treat over 35,000 patients, none of whom had previously received healthcare for podo
distribute over 330,000 pairs of shoes
train over 450 health workers, volunteers and staff
raise awareness across many rural communities about the causes and effects of podo
These are remarkable achievements, but with so many people affected around the world, we cannot afford to stop there.
You can help us prevent podo here. All donations, no matter how small, will help us to purchase the vital, but inexpensive supplies necessary to treat and reverse the symptoms of podo in sufferers.

Photo credits: Many thanks to Clive Chilvers, Jessica Shortall and Gail Davey for the use of their images on the Preventing Podo webpages.