Rea Stavropoulos (EURO 1973)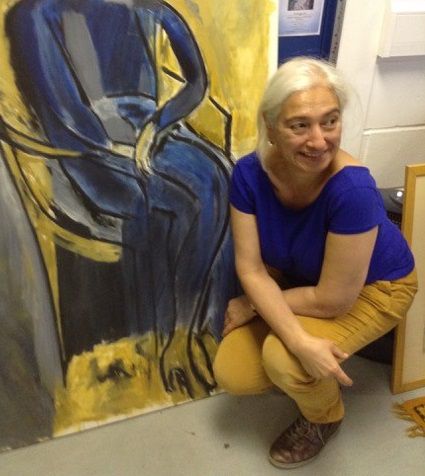 About Rea
Rea Stavropoulos is an artist working internationally across various media. She has had studios in London, Brighton and Florence, where she lived for 15 years, and speaks four languages. Rea has BA and MA degrees from Sussex in English and French (1973-8), spending a year at University in Paris; postgraduate qualifications in Law (City University) and Art (St Martin's). She is a Barrister and Member of Gray's Inn. As an advocate for women artists, she was on the Executive Committee of The Women's Art Library in London, and is on the Council of Advisors for the Advancing Women Artists Florence Foundation. Rea has also worked as an interpreter, writer, editor and translator.
Visit Rea's website and Facebook page, and also the Advancing Women Artists Foundation page.


'Don't be your own worst enemy through negative self-criticism. It's amazing how many successful people come to my art classes saying: "I'm no good", or "I was never any good at art at school", and they've carried that barrier throughout their life.'

Rea Stavropoulos (EURO 1973)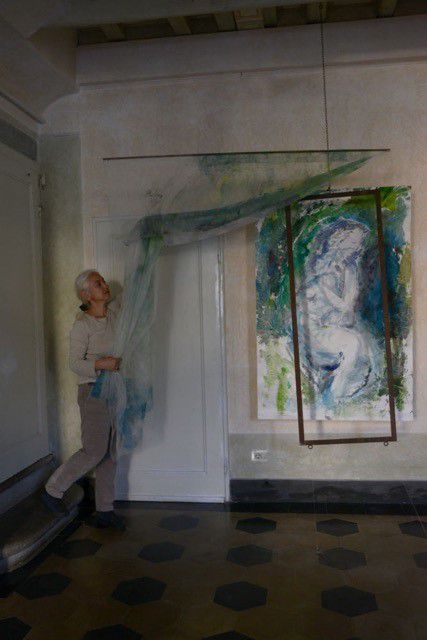 Beyond Watercolour Gardens: Helen Allingham Revisited
Rea is co-curating and exhibiting at a forthcoming exhibition about the life and work of the Victorian artist Helen Allingham. She aims to encourage visitors to reappraise an artist popular for her watercolour paintings but who was also a professional illustrator admired and emulated by Van Gogh.
Beyond Watercolour Gardens: Helen Allingham Revisted is at Burgh House & Hampstead Museum, London, from 6 July to 9 October 2016.
What was your first job?
In Florence aged 18, I gave English lessons so that I could stay on in the city after finishing my Art History and language courses.
Who's influenced your life most (and why)?
My mother, though I've only just realised it. As an introvert schoolgirl living in a drab area of London in the 1960s, I found her exuberant personality and flamboyant clothes embarrassing and stood out further among my classmates because I would miss Saturday morning cinema and other social activities for ballet, piano and Greek classes. She was the most determined person I have ever met and her example, swimming, dancing, writing till her death in her eighties is one that I hope to emulate.
What's the best piece of advice you could give someone?
Don't be your own worst enemy through negative self-criticism. It's amazing how many successful people come to my art classes saying: "I'm no good", or "I was never any good at art at school", and they've carried that barrier throughout their life.
What's the skill you'd most like to have?
Heating milk so it doesn't boil over when I make coffee. I get distracted or impatient, and do something else. It's all about being focused on the task in hand.
What is your favourite city or country to visit and why?
Barcelona - it's retained the mystery and excitement of the foreign, because I've never lived there or formally learnt the language, but I've been involved in fascinating projects and met people who are great collaborators.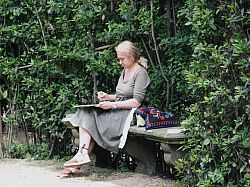 What are you passionate about?
Art as a catalyst for change, for dialogue and a creative approach to life. Communicating my discoveries and enthusiasms as an artist and human being to others, both through my art work, collaborative projects and through teaching. I am particularly concerned with widening our knowledge and understanding of women's art and its history.
Do you think society values art sufficiently?
On the face of it, visiting museums such as Tate Modern is a very popular activity, but I don't think that art should be mere entertainment—it should provoke thought and discussion. The practise of art involves both the intellect and our emotions and instincts.
As well as an artist, you are an experienced teacher. What are the pros and cons of teaching, in your experience?
Teaching is an extension of my work as an artist. I am constantly learning from it and it feeds back into my work. I started to teach in Florence because I wanted to communicate my discoveries through a lifetime of working. I continue to run courses in Florence, London and Brighton. The greatest gift for me is when I see someone who was stopped from painting as a child and suddenly discovers their artist self, observing the world around them with fresh eyes. I cannot think of any negative factors.
Who's your hero/heroine?
I admire the writer John Berger: he combines an artist's sensibility with great humanity and puts all his energy and talents to the service of others. I once worked with him in Turin and was impressed by the quality of his attention and his readiness to collaborate.
What's your favourite quote or motto?
"As you set out for Ithaca, hope that the journey is a long one…" from the poem "Voyage to Ithaca" by the Alexandrian poet C.P. Cavafy.
What's your favourite pastime/relaxation activity?
Swimming in the sea, preferably in Greece - the physical freedom and lightness of being in that other element. But I also love the Ladies' Pond on Hampstead Heath.
What can't you live without?
Knowing that there are other people out there with whom I can have a dialogue.
Tell us about a turning point in your life
In 1987, the sudden death of a dear friend from Aids made me decide to change my life and not put off my dream of becoming an artist. I gave up my full-time job as a Labour Relations Officer for a Trade Union and since then have made art the central focus of my life.
What attracted you to studying at Sussex and did you have a goal already in mind when you arrived on campus?
The structure of the course in the School of European Studies where I could specialise, but also study languages and interdisciplinary subjects. I already thought of myself as a European, so I wanted to be open to a future life in Europe.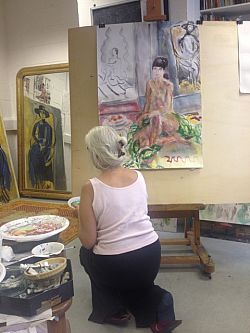 What are your favourite memories of Sussex?
The journey between home in Brighton and the University campus in its beautiful green setting - living that contrast between the urban and the rural on a daily basis; the view of Stanmer Park from the library and going for walks there to unwind; friendships that have lasted over 40 years; intense tutorials on medieval literature with Stephen Medcalf and French poetry with George Craig; life drawing at the Gardner Arts Centre every Friday. I was invited to exhibit my paintings in public for the first time there.
What part of the Sussex experience has helped you the most?
The tutorial system at Sussex helped me to develop my own voice and belief in the value of what I have to say, whilst being able to listen and try to understand very different ways of thinking. The Shakespeare tutorials which I shared with three mature students - two of them former miners (Sussex had a reputation for taking one in four mature students without formal entry requirements at the time) were the most lively and original discussions I had.
What impact – if any – does your Greek heritage have on your work?
Growing up speaking Greek at home, while going to school and doing everything else in English gave me my first experience of switching between languages and learning to look at the world from different perspectives. I am British by birth but with a Greek name. Greek is my mother tongue and I speak it fluently, but I've never lived there, whereas I've been a student in France and also lived, worked and brought up a child in Italy. The one time I exhibited in Athens, was in a British Council exhibition "British Artists in Greece".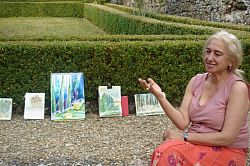 Have you encountered any particular barriers as a female artist?
The issue of being a woman and an artist first arose when I became a mother. It affected my approach to my work and also to my position as a woman and an artist in the world. As I discovered new limits to the time that I had available to travel, I became interested and involved in the history of women as artists. I joined the Women Artist's Slide Library (later the Women's Art Library/Make) in London to escape domestic isolation, and took my baby to the first meetings.
What qualities do you most admire in other people?
Perseverance. The courage to stick to their beliefs, however unpopular. An open mind and the ability to admit that they have made a mistake.
Favourite book? / film? / album?
TS Eliot's "Four Quartets"/ /Jean Cocteau's "La Belle et La Bête"/ Keith Jarrett's Köln Concert.
What do you consider to be your biggest achievement?
To have continued on my artistic journey and combined it with being a mother and a wife. It has been central to my own growth as an artist and my appreciation of women as artists.
What is the most important lesson life has taught you?
Accepting myself and the singularity of what I have to offer. When I was younger I kept my life more compartmentalised: the interpreter/translator/ lawyer / artist/ Greek identity/ British identity/ European - over the years I've realised that they all contribute to the way I work and what I do.
Describe your perfect day…
It would have to include time for myself alone with my pen and brushes as well as social time with friends and family, lingering on an outdoor terrace over a lovely meal. On a Greek island, I would get up before dawn and paint outdoors for a couple of hours to catch the changing light while everyone else is asleep, feeling I am alone and at one with everything around me, and having time to focus on whatever project I'm thinking about. Somewhere in between, I would go for a swim.