'[I stood for election to the Indian Parliament] to give a voice to people and bring positive change to the lives of a downtrodden community.'
Amit Choubey (IDS 2009)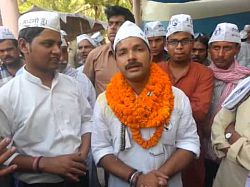 About Amit
Amit Choubey (IDS 2009) (full name: Amit Kumar Choubey s/o Harendra Pd Choubey) is a social activist from East Champaran in Bihar state, India. In 2014, at the age of just 31, he was selected from a field of 100 candidates to represent Aam Aadmi Party (AAP) as a parliamentary candidate in the Purvi Champaran constituency in Bihar state, India. Amit's campaign was unsuccsesful this time, but he plans to run for parliament again.
He has presented more than 25 research papers at international conferences and is the founder of two not-for-profit organisations: People Care Family and Sanmat. Amit has provided skills training to marginalised sections of society in his hometown and also played a vital role in establishing community radio stations in eight different regions in India.
He credits his education in the UK with giving him the passion and dedication to bring about positive change in the lives of underprivileged people in India.
Education:

Dr. M.G.R Educational and Research Institute University, Chennai: Electronics and Communication Engineering BTech
IDS: Governance & Development MA
Selected Awards and recognition:
SPIE Scholar Award

Newport Spectra Physics Award

Pride of Tamilnadu (UG Students category)

Silver Medal for Academics, Dr MGR Educational and Research Institute University, Chennai

Youth Icon of Champaran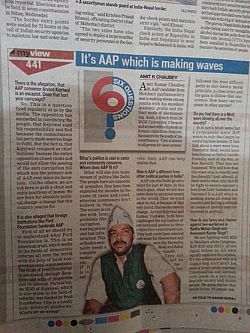 '[The biggest challenges facing India are] connecting public myths with logic, and grassroot volunteer management.'
Amit Choubey (IDS 2009)
What was your first job?
Working as a Database Administrator for Keane India Private Ltd (a computer software development company based in Banaglore).
Who's influenced your life most?
Mahatma Gandhi.
What's the best piece of advice you could give someone?
Try learning something new every day.
What's the skill you'd most like to have?
Public management.
What's your favourite travel destination?
Brighton.
What are you passionate about?
Succeeding in politics.
Who's your hero/heroine?
Swami Vivekanand (an Indian Hindu monk and chief disciple of the 19th-century saint Ramakrishna).
What's your favourite quote or motto?
Strive to excel.
What's your favourite pastime/relaxation activity?
Coffee table discussion.
What can't you live without?
My computer with internet!
Tell us about a turning point in your life
Studying at IDS.
What attracted you to studying at Sussex?
The Governance and Development course at IDS.
What are your favourite memories of Sussex?
My victory in the Student Council election.
What part of the Sussex experience has helped you the most?
The project work I carried out around the subject of 'Empowering Society' as part of my MA.
What are the biggest challenges facing India?
Connecting public myths with logic, and grassroot volunteer management.
What made you want to stand for election to the Indian parliament?
To give a voice to people and bring positive change to the lives of a downtrodden community.
What qualities do you most admire in other people?
Flexibility and adaptability.
Favourite book?
Autobiography of a Yogi by Paramahansa Yogananda.
What do you consider to be your biggest achievement?
The implementation of a post-matric scholarship scheme for Scheduled Castes (SCs) and Scheduled Tribes (STs) - previously considered 'untouchable' communities - which has empowered and enhanced the employability of more than 26,000 SC and ST youths by giving them access to free higher education.
Describe your perfect day…
I would start the day by receiving blessings from my mum, dad and granny and then I would do something good to help the deserving ones.