During Black History Month, the Students' Union are showcasing some of our Black students' inspirational stories of identity, purpose and belonging as part of a series entitled This is my Identity. We're featuring alumni stories alongside them, online and as part of a mobile exhibition on campus.
Melissa James (Media Studies 1994)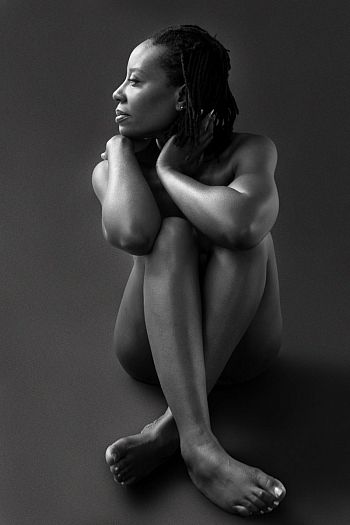 I know my blackness is always going to be the aspect of me that is seen first. And then my womanhood. I know that I will be judged on the fact that I am a Black woman. I also know that those who speak to me, before seeing me, may make an assumption about what I look like (as we generally do make such assumptions about anyone) and the assumption might be made that I am white based on my accent and how I speak; the texture of my voice. From this, some could be taken-aback uppon realising that I am the Black woman they see rather than, perhaps, the white woman they were expecting.
This kind of dialogue forms constant chatter in the back of my mind. It has formed part of my awareness of myself. And it means that, in some respects, I have had to build-up a tougher skin of sorts to deal with the expectations of others. But we all have to face misgivings. Not to downplay my own but it is hard to say how mine have made me stronger.
I haven't really ever had to face the type of abuse and prejudice that my parents would have faced when they first arrived in the UK. All my everyday, life experiences – whatever they may be – make me stronger and have helped me to grow in some way. It is hard to say which I attribute especially to "being Black".
I would have been about 5 or 6 when I remember recognising that I was Black. I remember talking about wanting long straight hair - blonde, probably.
There are Black men and women for whom I have a lot of respect. Nina Simone and Maya Angelou. Nelson Mandela. Aretha Franklin. I don't know that I would call them my 'heroes', but I do have a lot of admiration for these figures in particular.
Jahmella Robinson (Economics 2008)
I'm proud of my heritage and I'm fully aware of the line of struggle that Black people endured. Whilst the fight continues institutionally, I love that as a race we have strength and are very resilient. I love the historical cultural example to embrace who we are, and speak out against injustice - to fight for what is right!
I've always been aware of my skin colour but only became aware of the potential to be discriminated against because of it during my professional employment. The most common thing I've faced, and those I know often mention it to me, is contributing to a meeting and being dismissed or laughed at, but when someone else says pretty much the same thing it is well respected.
I love my hair, which can be in many styles from a kinky afro to straightened. I love that I have a high level of melanin in my body which allows me to tan easily in the sun. I love the food and music associated with being Black, and the sense of community often found amongst those raised in a similar manner.
Mary Seacole, who was a British-Jamaican nurse and a business woman, is a hero of mine. Despite what Black people faced back then, I don't believe she was bitter but rather she embraced the challenges and rose above them, and did what was right, helping wounded soldiers, irrespective.
I love the accomplishments of black people, their entrepreneurism. I'm reminded of the expression 'they tried to bury you, but they didn't realise you were a seed'.
As part of Black History Month, Jahmella is hosting a launch event for her first book, And The Walls Came Tumbling Down. It will take place at Runway East Moorgate, London on Saturday 27 October at 6pm. The evening will celebrate the work of a new Black author and will feature guest speakers who are founders of black-owned businesses. Tickets are available on Eventbrite.
Ife Thompson (Law and Politics 2013)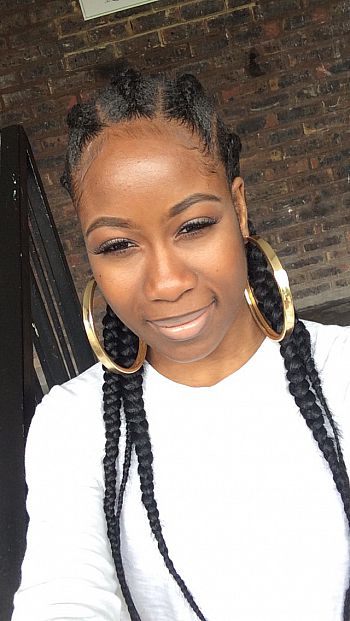 I love the richness of the culture and the sheer vastness of Black history. I am proud we had the world's first global university, the University of Sankore. I am proud of our ability to adapt and to create new things that shape popular culture. We create and lead in all spheres and our presence never goes unnoticed.
I love the versatility of my black hair and I believe Blackness is strength. I think my desire to find justice and fairness interlinks directly with my Blackness, it informs my view of the world and has given me a voice to say no. I walk on the backs of the greats like Jessica Huntley, Assata Shakur and Patrice Lumumba. I am in awe of these amazing people and their ability to invoke change.
Assata Shakur is my heroine. I love how she defined and called out white supremacy and stood up to the upheaval in America. I loved her sense of Pan-Africanism and the fact she was able to escape to Cuba and show the resilience of the struggle against the oppression of Black people. I was further inspired by her aunty Eveyln A. Williams who was her lawyer that held the state accountable and showed fearless advocacy with limited resources.
I think I always knew I was Black. I remember being so excited when, age 6, I was gifted a black doll. I had 15 white Barbies and to this day it's the only doll I remember. In primary school I noticed that all my teachers were white even though the school was predominately Black in Brixton and I constantly wondered why we have no Black teachers. I remember learning about Martin Luther King when I was in year 2 and I was so excited and proud of him.
I am an aspiring Family and Criminal barrister, currently at Law school, and also the founder of BLAM (Black Learning Achievement Mental Health), a charity that teaches young children from the African diaspora positive and powerful images about Black history. We want the children to have positive attributes about their blackness and we teach them about pre-colonial African kingdoms, Black British history and the Black Georgians. We feel it is important that black children like their counterparts are recognised and celebrated and we do this through teaching them positive Black imagery and history.
I wanted to be a barrister because I saw how the courts were used to implement change for Black people. For example, through overruling laws like Brown v Board of Education 1954 that deemed segregation in education unconstitutional and the Mangrove 9 trial in the UK which helped the courts establish and admit to issues of racial discrimination from the police force towards Black people.
BLAM is having a Black history month event to showcase Black excellence in the UK. Many Black Britons want to be the greatest but do not have the same opportunity in accessing mentors and advice as others. We are having this event to highlight the positive things that Black Britons are doing and secondly to increase our attendees' social capital by putting them in a space in which they can network together. Further details can be found on Eventbrite
If you're interested in taking part, all you need to do is email your answers to the following questions to alumni@sussex.ac.uk :

1) What do you love about being Black?
2) What strength have you gained from your Blackness?
3) Do you have any Black heroes and if so, who and why?
4) What three words would you use to describe yourself?
5) When did you first realise you were Black?
6) Tell us about who you are and what led to you being who you are today?
7) What do you do when you're having a 'bad day at the office'?
8) If you are involved in a Black History Month project, please share details here.

Your answers should comprise of a maximum of 500 words in total. Stories will be edited before publication. Please also attach one or two hi-res photos along with your response (for style inspiration, think Humans of New York / Sussex).
Click here for the Students' Union Black History Month events programme on campus.