Professional Services aims to provide the best possible support in delivering the University of Sussex's strategy across its mission for teaching, research and enterprise. We provide support to Schools and departments, and services directly to students; alumni and staff; to other clients of the University, including the local and regional community; and to our range of partners, friends and supporters.
Registrar and Secretary: John Duffy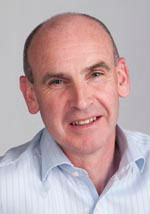 The Registrar & Secretary is responsible to the Vice-Chancellor for Professional Services - comprising all of the University's support services other than Finance and the Library. The directors of each of the Professional Services report directly to the Registrar & Secretary.
The Registrar & Secretary is Secretary to the University's Court, Council and Senate. He attends or is a member of all key policy-making committees such as Performance Committee and is a member of the Vice-Chancellor's Executive Group (VCEG)
Mr Duffy has been Registrar and Secretary at Sussex since November 2009. Prior to his appointment he had been Director of Administration at St George's, University of London (SGUL) since September 2004, and was previously Head of Administration of the joint Faculty of Health and Social Care Sciences between SGUL and Kingston University.
He has held management posts in a number of higher education institutions including the universities of Edinburgh, Newcastle and Sheffield and the Institute of Cancer Research.
Mr Duffy gained an MBA from City University London in 1991. He has an MA in American History from the University of Glasgow and was an exchange student at Georgetown University, Washington DC.
E Registrar@sussex.ac.uk
T (01273) 873814
Professional services departments
Academic Registry

We provide support services to students and to staff in Schools and Departments at Sussex.

The department manages the University's links with external bodies such as: UCAS, Local Education Authorities, Student Loan Company, Higher Education Statistics Agency and Training and Development Agency, the Quality Assurance Agency (QAA) and professional and statutory bodies (PSBs).

Key services include:

admissions for undergraduate, taught postgraduate and research postrgraduate, for both home/EU and international students
academic appeals and student complaints
student registration exam timetabling and e-assessment
management of University Teaching and Learning Committee
business management of University quality assurance processes.
student progress and assessment
central support and coordination for academic programme development
external partnerships
academic policy and procedures, including assessment regulations
timetabling of teaching and managing room bookings
maintaining student records (current and past) and management of registration
production of student transcripts and degree certificates
management information
support for teaching and learning for staff and students
technology enhanced learning
UKVI compliance.

Offices

Admissions Office, Academic Development and Quality Enhancement Office, Student Systems and Records Office, Research Student Administration Office and Technology Enhanced Learning Office. The Academic Registrar's Office can be found at Bramber House Level 1.

Contact

Director: Sharon Jones

E Sharon.Jones@sussex.ac.uk
T (01273) 872667 or (01273) 877091

Childcare

Key service:

nursery on campus for children aged from 3 months to 5 years run by the Co-operative Childcare.

Contact

Karen Parker, Nursery Manager

E sussexuniversity@ccc.coop
T (01273) 678356

Communications and External Affairs

The Communications and External Affairs division manages and enhances the University of Sussex's reputation as a world-leading research and academic institution.

Key services:

ensuring the University's vision, strategic aims and developments are understood by a range of stakeholders from students and staff to business, media, government, the local community and wider public
promoting the achievements of academics and researchers as well as students and professional staff
working with colleagues to increase the awareness of Sussex's outstanding student experience and the many exciting and innovative University initiatives.

The division incorporates media relations, internal communications, public affairs and campaigns.

Contact

Media relations

If you're a journalist or press officer, please contact:

Jacqui Bealing (Senior Media Relations Manager)
T: 01273 877437

James Hakner (Media Relations Manager)
T: 01273 877966

Campaigns and public affairs

Michelle Gordon, Interim Director of Communications (Communications and External Affairs)

Development and Alumni Relations

We supports the University of Sussex by raising funds for the University and its work from philanthropic sources. We also engage with alumni of the University and so ensure that the University is part of the lives of all its alumni.

Key services include:

Philanthropic Fundraising (inc Major Gifts, Trusts and Foundations, Legacies, and the Annual Fund)
Alumni Relations
University Corporate Events
Graduation Office.

Contact

Director: Marina Pedreira-Vilarino

E M.Pedreira-Vilarino@sussex.ac.uk
T (01273) 873827

Finance

We are responsible for all aspects of financial planning and management for the University of Sussex.

Key services include:

financial services to the university - accountancy, payment of suppliers, administration of insurance, invoicing of debtors, procurement of goods and services, collection of income from debtors, investment management, liaison with statutory authorities on financial matters (including accounts, returns, most of which are audited)
assistance in the identification and exploitation of commercial opportunities or cost reduction processes in line with the University's strategic aims, and in the negotiation of the best terms for the cost of supplies to the University
assistance in developing ideas and plans to facilitate expansion and further developments within the best practices of public sector stewardship of resources.

Offices

Schools Finance, Professional Services Finance, Fees and Income, Payments Management, Corporate Accounting Services, Procurement, Research Finance.

Contact

Director: Allan Spencer

E r.a.spencer@sussex.ac.uk
T (01273) 678307

Human Resources

We partner the University in all aspects of its people management through the "life cycle" of an employee.

Key services include:

recruitment

staff development

payment of staff

staff well-being

retirement

Equality and Diversity for both students and staff.

Offices

Personnel, Payroll and Pensions, Staff Development, Staff Welfare, Equalities

Contact

Director: Jane Summerville

E j.summerville@sussex.ac.uk
T (01273) 877083

IT Services

We provide a high-quality networking, computing and support service to help all members of the University make the best use of information technology.

Offices

Client Services, Corporate Information Systems, Infrastructure Services

Contact

Director: Paul Davies

E paul.davies@sussex.ac.uk
T (01273) 678700

Library

The University of Sussex Library delivers high-quality, innovative information services that contribute to the successful learning, teaching and research of the University and the community.

Offices

Library Academic Services and Special Collections, Library Frontline, Planning and Support Services, Library Content Delivery and Digital Strategy

If you are not a University of Sussex student but would like to use or visit our library, see our Information for Visitors site.

Contact

Librarian: Kitty Inglis

E k.inglis@sussex.ac.uk
T +44 (0)1273 877830

Planning, Governance and Compliance

We combine strategic planning for the University of Sussex with corporate governance activity.

Key services include:

providing support to the University's senior management to assist in the delivery of strategic priorities and compliance requirements

undertaking strategic planning, incorporating management of the annual planning process and work on resource allocation
liaising with the Higher Education Funding Council for England, including the submission of statutory returns
protecting the University through effective corporate governance and compliance processes, including administration of the business of the University's governing body, records management and data protection
supports the work of a number of senior University committees, including Council, Senate, Court, Strategy and Resources, Nominations, Audit and Research Strategy.

The Director of Health and Safety is part of the Planning, Governance and Compliance team. Health, Safety and Wellbeing services are delivered by Sussex Estates and Facilities.

Offices

Planning and Projects, Governance Services, Information Management and Compliance.

Contact

David Cole - Director of Planning, Governance and Compliance

Research and Enterprise

We support the growth of the University of Sussex's research effort, and its enterprise and knowledge exchange activities.

We also support the University in working with business, government and the third sector and, where appropriate, to secure the University a beneficial interest in any commercially valuable results of its research.

Key services include:

research development
research finance
contracts and IP
research quality and impact
Doctoral School
Director's Office (including Research Governance and Information Systems).

Contact

Director: Ian Carter

E i.carter@sussex.ac.uk
T +44 (0)1273 877718

Residential, Sport and Trading Services

Key services include:

responsibility for the development and delivery of housing, sport, retail and childcare at Sussex.

We supports and enhances the student and staff experience, in line with agreed long-term development plans for the University.

This includes improved social and retail provision, linked to a planned programme of residential development, and development of sports provision.

Offices

Campus Trading Services, Residential Services, Sport.

Contact

Director: Charles Dudley

E c.r.dudley@sussex.ac.uk
T +44 (0)1273 678679

Student Recruitment and Marketing

We lead on the University's strategy and delivery for the recruitment of undergraduate and postgraduate students for both home/EU and overseas students.

We ensure that the University competes at the highest level to attract the best students to Sussex from around the world.

Offices

International Office, Marketing, UK Student Recruitment, Digital and Creative Media (Web Team and Publications and Branding).

Contact

Director: Marcus Williams

E Marcus.Williams@sussex.ac.uk
T +44 (0)1273 678033

Student Services

We provide a range of support services focused on improving the student experience, both directly to students and also to colleagues in Schools and Departments.

Offices

Careers and Employability Centre, Chaplaincy, Counselling Service (including Health and Wellbeing), International Student Support, Student Life Centre, Student Support Unit, Sussex Regional ACCESS Centre, Widening Participation.

Contact

Director: Claire Powrie

E: studentservices@sussex.ac.uk
T +44 (0)1273 678930 or (01273) 678930

Sussex Estates and Facilities

Key services include:

space, management and planning
projects and development
facilities management (including transport, print/reprographics, grounds, mail, cleaning, security, waste & recycling, helpdesk)
maintenance (including telecoms and utilities)
energy and environment.

Contact

Partnership Director: Mark Stimpson

Sussex Food

Key services include:

management of 8 catering outlets
Conference Centre
vending.

Contact

T 01273 678221
F 01273 877366
E cateringservices@sussex.ac.uk