Summer of Research 2023
The Summer of Research is a new festival celebrating research and impact here at Sussex, running from Monday 5 June to Friday 14 July.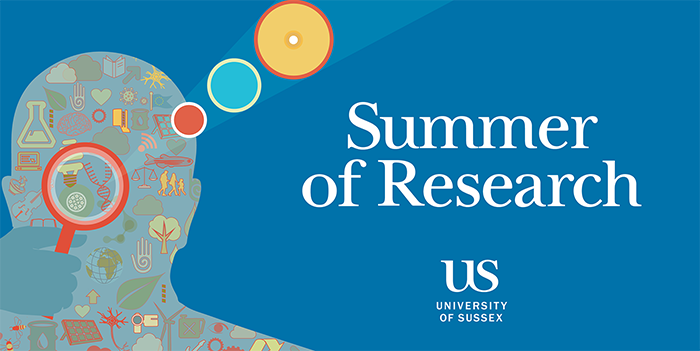 Pushing forward the boundaries of knowledge in creative ways, for the benefit of society, has always been fundamental to our mission at University of Sussex. The Summer of Research 2023 (Monday 5 June to Friday 14 July) is a new festival celebrating great research, knowledge exchange and impact here at Sussex.
For anyone involved in research, whatever your experience, and all those wanting to find out more, there is something for you in our programme. Join us to learn about the diverse range of research at the University, the creative approaches being taken and innovative techniques being used to push boundaries.
Events will include Impact Days, the Sussex Doc Fest, a Dragon's Den-style competition for Early Career Researchers, the Sussex Beacons Series of talks from our Research Centres and Open Research and Ethics workshops.
Look out for our Research, Knowledge Exchange and Impact Awards, celebrating great work, great ways of working and inspiring new initiatives. Don't forget to nominate someone you think should be recognised and rewarded for their contribution here at Sussex. More details coming soon.
Summer of Research strands
If you have an interest in a particular aspect of research, you can follow events throughout the programme by strand. Each activity strand is hosted by different teams from across the University. Find out more below. Full strand listings coming shortly.
See all Summer of Research events.
Sussex Doc Fest

Sussex Doc Fest is an annual celebration that brings together our doctoral community to showcase PhD research at Sussex. Taking place over five days, there will be opportunities to learn, share and connect with other doctoral researchers from across the University, online and in person. Highlights include the Three-Minute Thesis final, Research Image and Poster competitions, a Living Library, an employers panel and chances to network and socialise.

ECR Symposium

The first Summer of Research will include an Early Career Researchers' (ECR) Symposium on Thursday 6 July. The aim is to bring our researcher community together to showcase and celebrate ECR research at Sussex. There will be opportunities to learn, share and connect with other researchers from across the University.

Sussex Beacons Series

This series proudly celebrates research excellence at Sussex. Come along to find out more about some of the great research happening all across the University. Hear about exciting new work, ways of working and the impact of these. Go away with new ideas and even new connections. These bite-sized TEDx-style talks offer something for everyone and are open to all.

Open Research events

Open Research advances knowledge at all stages and across all disciplines, both within academia and wider society. The University of Sussex is committed to and celebrates the values, principles and culture of Open Research. The Library's work in this area addresses not just access, but also transparency, collegiality, experimentation, risk-taking, participation and sharing freely. This series of events, hosted by the Library, encourages staff and students to explore these concepts and engage with Open Research practices in their work and study, to maximise the possibility of public and academic engagement and impact.

Research Culture workshops

We are inviting each school to discuss Research Culture at Sussex - what we do well, what we could do better, our aspirations and potential initiatives to make the way we do research more collaborative, inclusive, open, impactful, supported, recognised and with greater integrity. The workshops will be the first in a series of events enabling researchers at all levels and research-related staff to inform a new Research Culture strategy, in development over the coming months.

Sussex Impact Days

A series of events dedicated to supporting, training for, sharing and celebrating the development of real-world impact from Sussex research.

View the full Sussex Impact Days programme.

From the Research Community

Join events across campus to find out more about fascinating research from multiple disciplines. Offering new ideas, new perspcectives, different approaches and methods, these events may also provide opportunities to forge new connections and build new networks.

Researcher Development

Sessions and workshops to help you improve your skills, from bid writing to getting your journal article published, creating a great Elements profile to building impact through knowledge exchange or public engagement. Our experts across campus are running sessions to share knowledge and help researchers at all levels work more effectively to achieve their goals.

Research, Knowledge Exchange and Impact Awards

The Research, Knowledge Exchange and Impact Awards will recognise contributions made to strengthen and grow our positive research culture at University of Sussex and achievements in collaborative working, both within and beyond the University. We want to celebrate those leading and contributing to great research, knowledge exchange and impact and those making good practice a reality by tackling shared challenges and developing new, innovative approaches.

Find out more about the Research Culture Awards.

Find out more about the Research Impact Awards.
Coming up
No items are currently available.
See the Summer of Research events list.
Please note that some of the events will need to be booked in advance. If this is the case, there will be an Eventbrite link on the event page.