My own particular research interest is in the area of neurodegeneration. I have previously led a small research group investigating the role of Pin1 protein in the frontotemporal dementias. Presently, as part of my work, I collaborate with various colleagues within Life Sciences in utilising immunogold labelling transmission electron microscopy (TEM) approaches to investigate the pathology and molecular pathogenesis of various neurodegenerative diseases utilising both post-mortem human brain tissues and animal and cell models of diseases.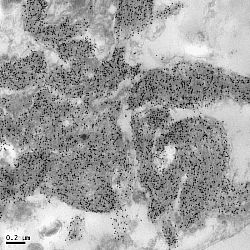 These latter colleagues include Louise Serpell, who specialises in structural biology, especially in relation to amyloid. Her Group is working towards an understanding of the mechanisms underlying fibrillogenesis and of their structural analysis using X-ray diffraction and electron microscopy. Louise and myself have recently been collaborating in investigations of the effects of exogenously applied beta-amyloid using the SH-SY5Y human neuroblastoma cell line and snail brain (with George Kemenes) as model systems. Very recently, in collaboration with Kevin Staras, this research has been extended to include the use of cultured hippocampal neurons; these latter offer the potential to examine synapses, where beta-amyloid may exert key deleterious effects. I am also presently collaborating with Majid Hafezparast and Sherif El-Khamisy utilising mouse models of motor neuron disease.
I also have some external collaborations which include studies of FTD brains (with Prof. Nigel J. Cairns at Washington University School of Medicine, St. Louis, USA) and mouse models of Parkinson's disease and mice expressing TDP-43 and FUS protein mutations (with Nottingham University and University College, London); these latter proteins are associated with the spectrum of neurodegenerative brain diseases from frontotemporal lobar degenerations (FTLD), through FTLD with motor neuron disease (MND) to MND.