Dignity and respect at Sussex is everyone's right and everyone's responsibility. Find out details about our new Dignity and Respect policy below.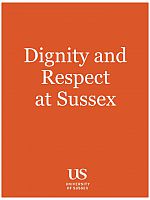 At Sussex we aspire to create a culture of dignity and respect on an everyday basis.
Our core values are kindness, integrity, inclusion, collaboration and courage and we seek to embody these in all we do so that all members of our community can make a contribution and thrive.
All members of our University community – staff, students and visitors – can expect to:
be valued for their skills, abilities and contributions
be treated with dignity, respect and courtesy
study, work and live on a campus free from bullying, harassment or victimisation or violence
experience no form of unlawful discrimination.
The University takes a zero tolerance approach to all forms of discrimination, bullying and harassment, and violence. All allegations of discrimination, bullying, harassment and violence will be dealt with and the new policy sets out what steps you can take to raise concerns informally or by making a formal complaint. You can also share any concerns through our Report and Support tool.

Download our Dignity and Respect policy
Our Dignity and Respect policy was written in 2019 in response to concerns about bullying and harassment raised in staff surveys and the Changing University Cultures (CHUCL) report. It is the product of an extensive process of consultation with staff, including our campus trade unions, in May to July 2019.
Report and Support
If you or someone else has experienced behaviours such as bullying, harassment, a hate incident, sexual violence, domestic abuse or discrimination, use our Report and Support tool to let us know.