News
Dyslexia Awareness Week 2023 (2nd – 8th October)
Posted on behalf of: EDI Unit
Last updated: Monday, 2 October 2023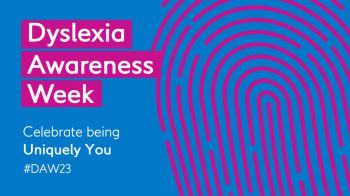 This year Dyslexia Awareness Week is 2nd to 8th October. According to the British Dyslexia Association, about 1 in 10 people have dyslexia. Dyslexia is a neurological difference and can have a significant impact during education, in the workplace and in everyday life. As each person is unique, so is everyone's experience of dyslexia.
Dyslexia is a specific learning difficulty that can impact information processing and short-term memory capacity, creating difficulty processing and remembering. Some individuals will have developed coping and alternative strategies, for others accessing such strategy might not yet be possible. Tasks which can require more time and effort than might be expected include reviewing, processing, and writing long text or processing oral information. Dyslexia can impact upon an individual's confidence and self-esteem, and the impact this has on an individual can often go unseen.
Workplace information and resources
British Dyslexia Association resources:
All staff with a University of Sussex email account can access the Business Disability Forum Knowledge Hub. Please register on the sign-up page first to be able to access useful resources, including:
Staff can also access the University Workplace Adjustment toolkit for more information and guidance for staff and managers.
Neurodiversity Staff Support Network
The Neurodiversity Staff Support Network aims to support staff who have either been diagnosed with a neurodivergent condition(s) or suspect that they may have a neurodivergent condition(s); including but not limited to ADHD, Autism, Dyslexia, Dyspraxia and Dyscalculia. The Network operates and meets predominantly through Microsoft Teams where staff are able to connect with each other, share helpful resources and provide peer support.
If you would like to join the Network or would like further information about the Network, please e-mail the EDI Unit edi.unit@sussex.ac.uk.
Resources and Support for Students
Information for students is available on the Disability support page and the Student Hub for health, support and wellbeing services available at Sussex.
Here students can find out more about reasonable adjustments for teaching, exams, and assessments.
Further resources
There is also a Neurodivergent Researchers and Supervisors Canvas page, developed by members of the student Neurodiversity Society and the Doctoral School. There are a range of resources and information related to understanding and supporting neurodiversity in academia.
Neurodiversity elearnings
There are two online training courses that look at the strengths neurodivergent thinkers can bring to organisations and the challenges they face in the workplace. They also explore strategies and inclusive practices to create the best possible conditions for neurodivergent thinkers to thrive in the workplace. This training is recommended for managers and supervisors, but open to all Sussex staff.
Log into LearnUpon in a Chrome browser where possible then go to My Courses. You can find the courses by searching 'neurodiversity' in the catalogue.