News
Bi Visibility Day 2023
Posted on behalf of: The EDI Unit
Last updated: Friday, 22 September 2023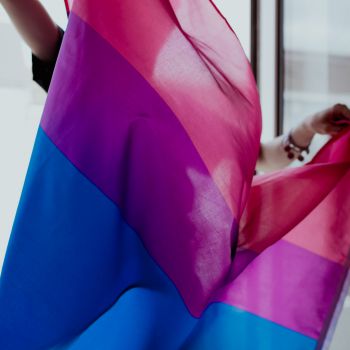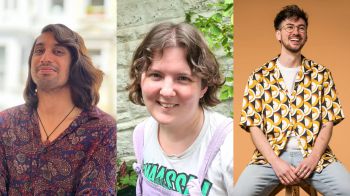 Saturday 23 September 2023 is Bi Visibility Day. Marked each year since 1999, Bi Visibility Day raises bi awareness and challenges bisexual and biromantic erasure.
Bi Visibility Day is part of Bisexual Awareness Week from Saturday 16 - Saturday 23 September. Look out for the Bi Flag over Sussex House.
Stonewall have a Bi Visibility Hub with a range of resources and articles including 'Why Do We Need A Bi Visibility day?'
The terms 'Bi' or 'Bi+' can be used to recognise that there is a range of identities and experiences that fall under the Bi umbrella, including bisexual, pansexual, biromantic, and m-spec (multi-spectrum) attraction.
---
Bi Visibility at Sussex
The LGBTQ+ Staff Network have put together a Bi Visibility Padlet, collating and celebrating Bi representation in media, and support and resources relating to bisexuality and Bi+ identities.
"Bi Visibility Day each year reminds me of why I vocalise my bisexuality and of how valid I am.
As an adult I began to notice a sense of grief triggered when people around me came out as gay, sharing their queerness openly in a way I didn't think that I ever could. I started looking for bi content online, searching for blogs to educate myself and find others like me. I realised I had to remind myself of a few things:
Bisexuality isn't defined by your current relationship, however long that relationship has been.
Bisexuality means being attracted to more than one gender, not necessarily at the same time, in the same way, to the same degree.
There is no amount of "experience" needed for your sexuality to be valid.
Educating myself and feeling empowered enough to share my bisexuality has been a freeing experience for me." – University of Sussex LGBTQ+ Staff Network member.
The LGBTQ+ Staff Network will soon we welcoming a Bi rep onto the Network organising committee, joining the Network's efforts to support LGBTQIA+ people at Sussex.
Experiencing Exclusion and Erasure
Bi people often face exclusion both from heterosexual and LGBTQ+ spaces, Bi people are less likely to be 'out' to all of their colleagues and family compared to gay men and lesbians, and Bi people often experience an 'erasure' of their Bi identity.
A recent study by the Brighton and Sussex Medical School, 'Bisexual People Experience Worse Health Outcomes in England' (2023), found that "Bisexual adults report poorer physical and mental health outcomes compared to any other sexuality."
In Our Community
The Coast is Queer – the UK's biggest LGBTQ+ literature festival takes place on Sussex's Falmer Campus, at the Attenborough Centre for the Creative Arts, Thursday 12 - Sunday 15 October.
The festival includes a panel discussion Invisible Identities – Why We're Queer When We're Not Having Sex, on the experiences of bisexual, asexual and trans people within LGBTQ+ spaces. This is just one of many brilliant talks, events and activities taking place on campus as part of the festival.
Support for Staff and Students
Our Sussex community has a number of inclusive groups for both staff and students, including:
The University has clear expectations of how all members of its community treat – and are treated by – others. We will not tolerate bullying, harassment and violence, including sexual violence, racial harassment and hate crime.
If you or someone else has experienced behaviours such as bullying, harassment, a hate incident, sexual violence, domestic abuse or discrimination, you can let us know using this Report and Support tool.