News
Non-Binary People's Day, 14 July 2023
Posted on behalf of: EDI Unit
Last updated: Monday, 17 July 2023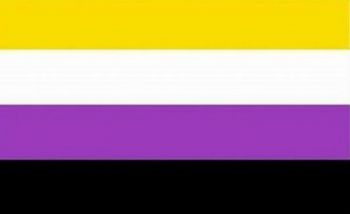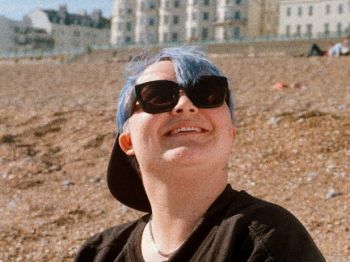 14 July is International Non-Binary People's Day, which aims to celebrate the wide range of people worldwide who identify as non-binary.
Stonewall provides a definition of non-binary: "Non-binary is an umbrella term for people whose gender identity doesn't sit comfortably with 'man' or 'woman'. Non-binary identities are varied and can include people who identify with some aspects of binary identities, while others reject them entirely.
Non-binary people can feel that their gender identity and gender experience involves being both a man and a woman, or that it is fluid, in between, or completely outside of that binary."

Non-Binary at Sussex
Non-Binary People's Day coincides with Trans Pride Brighton (14-16 July). This week the LGBTQ+ and Trans and Non-Binary Staff Networks held an event to showcase the creative contributions of some of our trans and non-binary staff and students.
James Ward-Lee (they/he) is the Chair of the Trans and Non-binary Staff Network, and is Assistant Coordinator in Law, Politics and Sociology at the University of Sussex. They share their experiences for Non-Binary People's Day.
What does this day mean to you?
"Awareness days can be a really positive opportunity to think about people in our lives and what their experiences of the world might look like, and to help allies learn more. Non-Binary day is just one day out of the year, but it's good to spend a bit of time thinking about the non-binary people in your life and what you could do to help understand and support them."
Can you tell us a bit about being non-binary? What is something you wish more people knew?
"For me, it just means being myself! Everyone has different experiences of gender and how they engage and present with it, and for me it's just that I don't align with one category or another. Being trans is just part of me, like brown eyes or a sweet tooth! I'd like if more people knew that the most important part of being an ally is just willing to learn and kindness. You don't need to know everything to "get it right" – just try your best and ask when you don't know!"

Non-Binary Inclusion
Sussex has an ongoing LGBTQ+ Inclusion Action Plan which includes specific developments toward further inclusion of staff and students with non-binary identities.
Currently there is an option to select 'Mx.' (a gender-neutral title) in Sussex Direct. Staff are also encouraged to complete the 'Equality Data' tab under the 'Personal Information' section in the online HR Portal: My View.
'Non-binary' and 'Agender' are selectable options under the 'Gender' tab.
Collecting information on equalities is important as it helps us to develop initiatives to improve inclusion for all people facing marginalisation or discrimination, and to improve access and inclusion.
Some staff may choose to put their pronouns in their email signature or wear pronouns badges. These are available from the EDI Unit, including he/him, she/her, they/them, and blank badges where you can write your own pronouns. Edi.unit@sussex.ac.uk

Information and Support
Trans and Non-Binary (TNB) Staff Network

The TNB Staff Network is open to all trans and non-binary members of staff at the University.
It is a confidential and a fully inclusive group, open to all members of staff or postgraduates who identify as Trans/Non-Binary. The network aims to meet monthly for socials, and to discuss and review policy development, as well as organising different events throughout the year.
If you would like to join the network or would like further information you can contact the network by emailing the mailing list transnonbinarystaff@sussex.ac.uk. The mailing list is monitored and – to ensure confidentially – is accessed only by the Chair of the Trans and Non-binary Staff Network.
LGBTQ+ Staff Network
The LGBTQ+ Staff Network wholeheartedly welcomes trans and non-binary staff members. It is an inclusive group for all LGBTQIA+ staff and PhD students at Sussex. The LGBTQ+ Staff Network seeks to raise awareness and understanding of issues affecting the LGBTQIA+ community.
It aims to share and celebrate the contributions of LGBTQIA+ people and groups, and amplify or echo LGBTQIA+ voices.
To join the LGBTQ+ Staff Network, contact: lgbt-staff@sussex.ac.uk.
For Allies
The Trans and Non-Binary Staff Network has created an informative article for allies: TNB Statement for Friends and Allies.
For Staff
For Students
In the Community
The Clare Project | Transgender support and social group
Trans and gender-diverse services - MindOut LGBTQ Mental Health
Our Services – Trans Pride Centre