Keeping active
Read about the benefits of staying active through exercise and activities.
Reasons to get active
There are many benefits to looking after your physical health.
Some things you might notice after taking up an activity include:
an improved mood and sense of wellbeing
a better night's sleep
reduced stress or anxiety
healthier skin
the opportunity to socialise and meet new people.
Long-term benefits
If you regularly take part in some sort of activity, some of the longer-term benefits include:
increased energy and motivation
improved academic performance
better body shape, reduced weight and more confidence
improved strength and fitness levels
reduced chances of heart disease, diabetes or a stroke
increased resilience for dealing with stressful situations.
Performing well in your studies
Read our guidance on the beneficial effects of exercise on academic performance [DOCX 16.19KB].
How to get started
Whether you've done much exercise before or not, university is the perfect time to get started with a whole range of ways to get fit and active.
While it can be challenging at first, it will become both rewarding and enjoyable quickly if you stick at it.
The NHS provides tips for novices to get started, as well as a quiz to help you work out which sport is right for you.
Opportunities at Sussex
Find out about membership and group exercise classes, visit the gym or book on to one of our courses. Our student social sport programme, Active US, offers low-cost, drop-in activities including volleyball, football, badminton and more.
You can also get involved with one of the sports clubs or societies run by the Students' Union. Whether you're interested in football, cricket, trampolining or even Ultimate Frisbee, there'll be a club for you. There's even the opportunity to set up your own sports club if your preferred sport isn't already catered for.
Societies offer opportunities including various styles of dancing, walking and cheerleading.
Other ways to get active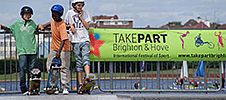 Local sports groups
Brighton & Hove is a great city in which to lead a healthy, active lifestyle. The council provides details of sports and activities including the location of clubs and leisure centres.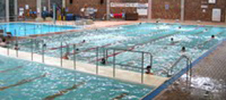 Swimming
Sussexsport offer £1 swims all year round for University of Sussex students and staff at local pools. A valid University of Sussex ID card must be presented to pool staff at every session. Check the general/adult swim times at the centres to plan your visits. Find out more about participating pools.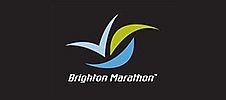 Marathon
If you're feeling really ambitious, you could consider training for the Brighton Marathon.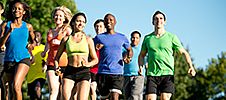 Walking and running
Take a walk or a run around the campus. Find out more, including maps of routes around campus, from the walk/run web page. Active US offer free twice-weekly running sessions for students in term time.
Also look at the NHS Couch to 5K scheme if you want to start running.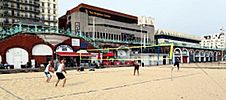 Volleyball
Active US (Sussexsport's social sport programme for students) offers beach volleyball sessions at Yellowave in Brighton. You can also book to play there independently.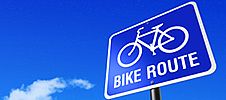 Cycling
Try cycling into campus (if you live off campus) or into Brighton (if you live on campus).
There are showers on campus and, if you feel safer cycling with others, have a look at the Biketrain website for a fun way to cycle in to uni.
Also...
See the Student Hub for information about: