Sussex Impact and Research Awards 2015
The winners of the first Sussex Impact and Research Awards were announced at a celebratory reception in the Jubilee building on Tuesday 16th June, 2015. Sussex researchers across the University joined the Vice-Chancellor and external guests for the awards, which followed the first Sussex Impact Day.

The Pro-Vice-Chancellor (Research), Professor Michael Davies, said: "This first ever set of University awards for outstanding impact not only recognise our researchers' achievements but also include a modest financial investment in their work. This demonstrates our institutional commitment to the future of the University as a place of excellence and innovation."
Each winning entry received a certificate and £1,000 paid into a research support account.
Click on the icon below to take a look at all of the 2015 entries: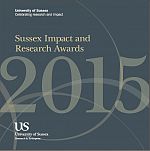 Here are the Sussex Impact and Research Award winners from the three categories of Enabling Impact, Achieving Impact and Emerging Researcher: