Research news
University of Sussex Business School Innovation Network launches with networking events for businesses
By: Serena Mitchell
Last updated: Friday, 16 September 2022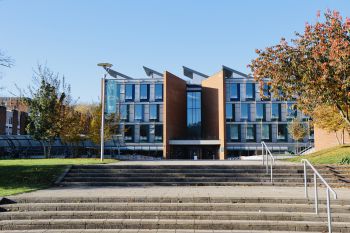 The University of Sussex Business School together with EY Breakthrough Incentives have launched an Innovation Network aimed at local businesses and entrepreneurs.
The network is a new hub that offers innovation ideas, practical support, and networking opportunities to both regional and local start-ups and small to medium sized enterprises (SMEs).
Beginning in September 2022, local businesses and entrepreneurs are invited to join a series of themed networking events designed to share innovative thinking, hosted at the Business School at the University of Sussex campus at Falmer, Brighton.
Organised collaboratively between EY Breakthrough Incentives and the Business School, networking events will cover a range of topics such as research and development, grant applications and tax, sustainable finance, the harnessing of new technologies and how to generate and maintain innovative business ecosystems. Each session focusses on specific topics to address business interests and challenges.
Speaking on the collaboration, Ed Chinn, Associate Director at EY Breakthrough Incentives said:
"We are delighted to work with the Business School to create a positive impact for businesses in Sussex. EY have a wealth of practical knowhow and the Business School is an important public asset that generates new knowledge to solve complex problems."
Marcus Atkinson, External Engagement Manager at the Business School said: "It's important we open the doors of our buildings so we can talk and learn from the communities we serve. We've all had a tough couple of years and now it's time to reconnect, reboot and reenergise our creative selves. With the wealth of innovative talent and expertise all around us, the Sussex Innovation Network fosters an environment where valuable connections are made, new practices are learnt, and fresh concepts created that inspire and add value."
Join the Sussex Innovation Network to refresh, reset and share your innovative thinking, interact with businesses, and broaden the positive impact of our collective innovative power.
Sign up now for a networking event
The first three Business School Innovation Network events will run on the following Thursdays from 12 noon to 2pm:
22 September 2022
1 December 2022
2 January 2023
The two-hour sessions start with talks and presentations, followed by an hour for networking with refreshments.
To join the network and book your place, register here
Venue: The University of Sussex Business School is just off the A27 between Brighton and Lewes. Parking is available and Falmer Station is a short walk away.
Attendees are welcome to submit topic ideas and share insights. If you'd like to contribute to the sessions, or have further questions about The Sussex Innovation Network, please contact the University of Sussex Business School at: exteng@sussex.ac.uk