Research news
Co-create with Student Connectors in 2022/23
Posted on behalf of: Connector Programme
Last updated: Monday, 25 April 2022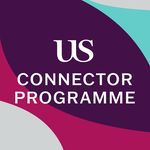 The Connector Programme sees students and staff working as equal partners; learning, innovating and co-creating together to improve the student experience at Sussex.
There are teams of Staff and Student Connectors working across the university, planning events for welcome and induction, creating accessible marking criteria, running student wellbeing programmes, and many other activities. We are looking to embed student and staff collaboration across teaching and student services, to ensure that we are building an inclusive community, relevant to students' needs and wants.
The Connector Programme from University of Sussex on Vimeo.
Staff members can engage a Connector team to identify, plan or implement projects which aim to positively impact the student experience.
We are currently accepting proposals for Connector teams! If you would like to collaborate with students over summer, please submit a proposal for a Connector team - click here to visit our website and see the heading 'How can I start working with Student Connectors?' to access the proposal template.
For ideas and support for your proposal, you can:
- Attend one of our information events: 10th May at 3pm or 26th May at 11:30am or 15th June at 2pm

- Visit our website to see examples of Connector projects across the university and more info on collaborating with Student Connectors
- Contact the team to discuss on connectorprogramme@sussex.ac.uk
Further information: http://www.sussex.ac.uk/schoolsandservices/professionalservices/student-experience/student-engagement-and-enhancement/connector-programme