Athena SWAN
What is Athena SWAN?
The Athena SWAN Charter evolved from work between the Athena Project and the Scientific Women's Academic Network (SWAN), to advance the representation of women in science, technology, engineering, medicine and mathematics (STEMM) in higher education. The Charter was launched by the Equality Challenge Unit in 2005 and now over 130 universities and research institutes have signed up as members.
In May 2015 the charter was expanded to recognise work undertaken in arts, humanities, social sciences, business and law (AHSSBL), and in professional and support roles, and for trans staff and students. The charter now recognises work undertaken to address gender equality more broadly, and not just barriers to progression that affect women.
The Athena SWAN Charter is based on ten key principles.
Athena SWAN awards
Athena SWAN Charter members can apply for bronze, silver and gold awards that demonstrate their commitment to the development, advancement and promotion of gender equality.
The awards are grouped into two categories:
Institutional awards – these awards are made to institutions in recognition of their commitment to promoting gender equality.
Departmental awards – these awards are made to individual Schools or departments who have identified particular challenges in relation to gender equality and have developed an action plan for addressing these.
In order to apply for a departmental award, the institution has to hold a valid bronze or silver award.
There are two submission dates per year for applications for awards – the last working days in April and November.
Athena SWAN at the University of Sussex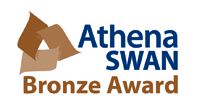 The University of Sussex holds a bronze University award (initial application submitted in November 2012 and awarded in April 2013, renewed April 2016 and awarded November 2016). This award is valid for three years from the announcement of the award i.e. until November 2019.
Athena SWAN bronze award renewal [PDF 2.76MB]
Athena SWAN bronze renewal feedback [PDF 297.80KB]
Examples of initiatives that have been undertaken as part of the University's Athena SWAN agenda include:
A revision to the academic promotion procedure to allow individuals to declare personal circumstances, for example, periods of maternity leave, and for these to be taken into account by promotion panels
An annual review of all staff in STEMM Schools employed on fixed-term contracts to assess whether the University can offer them a transfer to an indefinite contract
New staff development sessions on unconscious bias
A communications masterclass for women in STEMM
Workshops on the academic promotions procedure
The development of an Athena SWAN website
A mentoring circles scheme for female post-doctoral staff in STEMM disciplines
Focus groups with women who have recently returned from maternity leave
The creation of four Daphne Jackson fellowships for female scientists who have taken a career break
High profile communication of successful women in STEMM
In addition to the University's institutional bronze award, the following Schools have achieved bronze department-level awards:
School of Engineering and Informatics (November 2014)
School of Mathematics and Physical Sciences (November 2017)
School of Psychology (April 2016)
The School of Life Sciences was the first School at Sussex to receive a departmental silver award (November 2015). The Brighton and Sussex Medical School also holds a silver award (November 2017).
For more information, or if you have any queries, please contact Jackie Rymell on 01273 873720