Ethnographic Film in a Digital Age
Winter School

2020 course dates
Monday 20th - Friday 24th January
Course Venue
Monday 20th and Tuesday 21st January
9.00 - 5.30
Ashdown House AH106
Wednesday 22nd January
Individual or pair filming
Thursday 23rd and Friday 24th January
9.00 - 5.30
Ashdown House AHG4
Friday 24th January
18.30 – 20.00
Silverstone Building SB309
Screening of completed films to course participants and invited guests

The department of Anthropology invites you to participate in an intensive five day day winter school taught by award-winning ethnographic filmmaker Karen Boswall. This course is designed to provide you with the technical and conceptual tools for producing your own ethnographic films using readily available digital audio-visual technology.
Subjects covered will include:
Understanding the implications of using moving image as part of ethnographic research
Explore the creative, conceptual & ethical considerations of incorporating moving image sound into your fieldwork.


Making technological choices
Become aware of the possibilities and limitations of employing the capabilities of available audio visual digital technology (phones, tablets, stills cameras and camcorders & software).


Developing practical shooting skills
Learn how to work with light and sound; framing, exposure, camera movement while remaining engaged with your subject and research environment.


Applying practical recording skills
Learn how best to record an interview and film activities with good sound and most useful and relevant content.


Planning and shooting your own short ethnographic video portrait
Experience some of the challenges of planning and shooting a short film through practise.


Learning practical Editing Skills
Learn how to make available editing software work for you. Software interfaces demystified and approaches to editing explored.


Sharing and incorporating recorded and edited audio-visual material
Learn how to attach, upload or integrate moving image into presentations and on-line publications.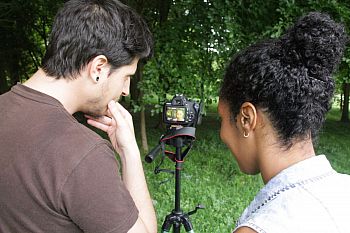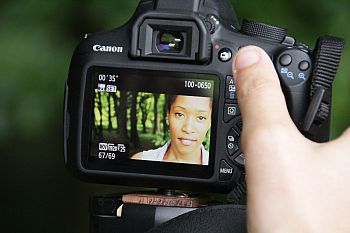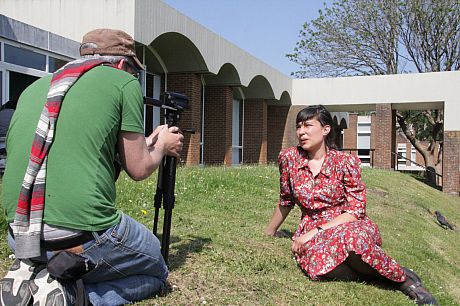 This course is designed to equip participants with the skills and understanding to best make use of the digital technology they already have available to them. To participate you will be required to bring some form of audio visual recording device. This could be your mobile phone or tablet, a digital stills camera with the capacity to record moving image and sound, (DSLR or 'point and press), or a digital camcorder. Editing will be taught on university desktop computers, or, should you prefer, your own laptop (Mac or PC). Please indicate the equipment you will be bringing in your application form.


Eligibility
All post graduate students, post-doc researchers and faculty in the Anthropology department are eligible to register for EFDA 2019. This is a very popular course and due to the limited number of places it is important that all those who register attend the entire course. A deposit system of £50 is designed to ensure the full twelve places will be taken up and there will be no empty places due to no-shows or last-minute cancellations. The deposit (made payable in cash to Susan Chater, C168) will be refunded upon full attendance of the course or upon cancellation of attendance before January 6th 2020. There will be a stand-by list so, should anyone have to drop out, their place can be filled.
Course participants will need to ensure they are available to attend between 9.00 and 5.30 on the Monday, Tuesday, and Thursday of the course and 9.00 to 20.30 on Friday to end on a celebratory screening and evaluation for colleagues friends and family at 18.30. This is a popular element on the course and we hope you can keep that evening free to celebrate all you have learned and achieved over the week. The third day of the course is set aside for individual shooting so the timing of this day is more dependent on the availability of those you are filming.
Films made by previous EFDA participants
Feedback from previous courses
"The course is fantastic. In a short period of time this course gives you the basic techniques and skills that you need to film and edit your own short work. It is a fun, interactive and hands on course which I would highly recommended. - (Silvia Irina Berastegui Arbeloa, MA Anthropology of Development and Social Transformation)"
"On merely film-making level, the most fascinating aspect of the course was Karen teaching us how to translate our multi-dimensional world into a bi-dimensional language. On a more anthropological level, being given the opportunity to produce an ethnographic film made us experience first hand the challenges, potential, and beauty of conducting visual-ethnographic research. (Alessandra Bavestrelli. MA Anthropology)"
"As beginners, we learned a few simple rules that surprisingly allowed us to create some really good films! – (Maria Parys, MA Social Anthropology)"
"I learnt an enormous amount in a short space of time - in fact I went from zero knowledge to feeling I had a sense of what I was doing. Karen was really very impressive the way she got so much out of all of us".
"This was an excellent course. It covered an enormous amount of material in a very short period of time. The instructor was extremely knowledgeable and capable in conveying this knowledge efficiently and in an engaging way".
"I just loved this workshop! Everything was amazing".
"Without any doubts, this was the best course I have ever attended at Sussex".
"The most useful was the practice. We got to practice immediately everything we learned in theory."
"I was amazed, how much one can learn (and especially apply) in only one week. We created our very first ethnographic films, and I loved the process and the outcomes."
"It was an intensive week, we often worked on our projects till night, and yet we enjoyed it".
"Karen was an excellent tutor."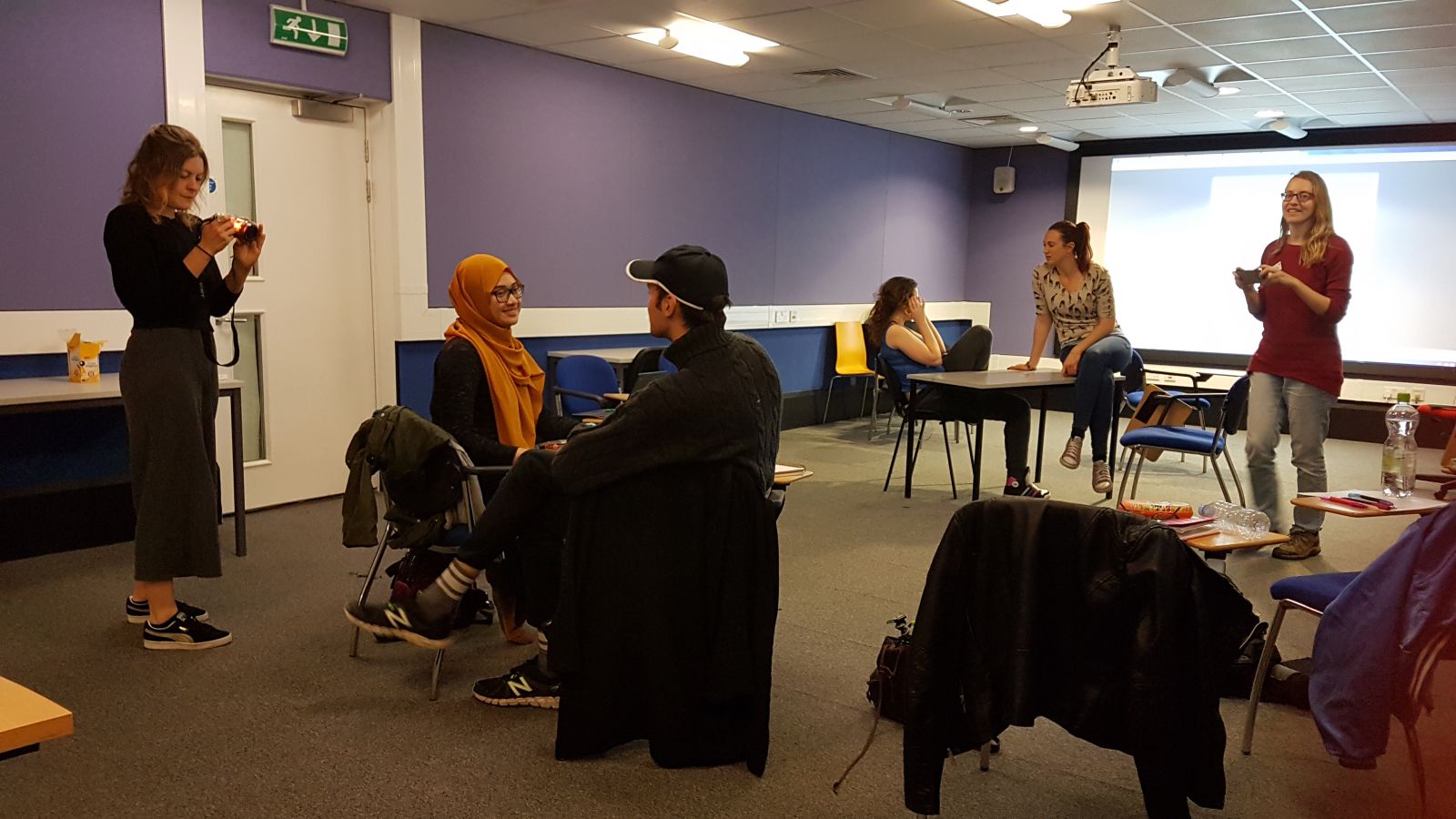 "Filming adds completely different dimension to the ethnographic research, and I believe it is extremely useful for an anthropologist to be familiar with the methods. I would definitely recommend the course to other students". LENKA ZAHRADKOVA PhD in Anthropology
"I thoroughly enjoyed the course and it has given me a lot more confidence to use ethnographic film as a research method in my Phd next year."
SASHA FLATAU MA ADST
"I really enjoyed this course and think it is amazing that Sussex offers this to students for free. Karen was a fantastic instructor - very encouraging, approachable and an inspiring to have met."
OLIVER SHAW MA Anthropology
"The course was well-structured with a useful review of the history of ethnographic film making at the onset. Karen was a highly knowledgeable, patient and personable instructor. I can't recommend her highly enough". MANINI SHEKER PhD Anthropology
"The practical side of the course was extremely useful, especially working in pairs to help each other, give advice and bond as a group."
"I find it really useful to learn through doing, so I enjoyed having a bit of theory, followed by putting it into practice. It was also great to have a whole day for filming so that I could try a few different ideas without worrying about time pressure".
"I really enjoyed watching each other's films at the end. They were all so different and everyone had really taken on board the different shots, angles that we had learnt about and used them so effectively. It was nice to see the different styles and topics people produced films about in such a short space of time."
"I think it was great that we were expected to make our own film which were screened at the end of the course - I think we were all impressed with what we had managed to produce in a few days."
"Learning practical filming and editing techniques was really valuable, as I had no experience with film before. It left me feeling motivated to make my own films."
"Karen was fantastic. Really friendly, approachable and it was very inspiring to hear about all her experiences and watch some examples of her work."
Notes from past to future participants
"I was never that happy and satisfied with any course I took during my years of education and work. Karen is an amazing teacher! The course is quite intense, but when you're doing something that enjoyable, you don't feel tired! It was hard work, but most of all a lot of fun with a great group of people. You won't regret it!"
"Definitely do it! If you are interested in Ethnographic filmmaking it is a no brainer, but equally I think that for any and all ethnographers the course provokes questions about researcher-subject interaction and the relation between form (whether writing / film) and knowledge production that are invaluable."
"It is very useful as a first approach to audiovisual techniques. It is an excellent opportunity to explore this medium to be able to decide later if you want to include it in your research or not."
"The thing I liked most about the course was how proud I felt when I had finished my own short film."
"I was overjoyed and still am to see the result of attending this course. I can't recommend it strongly enough."
Application
There are limited places on the course, please complete the application form and submit once you have a receipt number of your returnable £50 cash deposit (payable to Susan Chater in C168). This deposit will be returned should you not be able to attend the course. . You will receive confirmation of your attendance and links to course materials by email.
Click to Apply: