Digital signs (plasma screens)
A centrally managed system of digital signage is used in various locations across campus, both indoors and outside.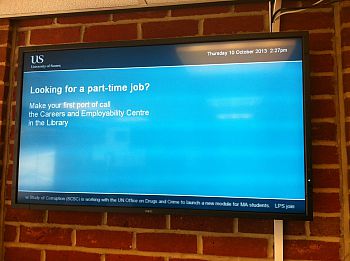 A number of screens are located around campus in key public areas where students, staff and visitors can find useful information (e.g. upcoming events), announcements and news.
The aim is for key information to be presented consistently on screens across campus, to complement information on other communications channels, and to be tailored to the users of the building.
The TriplePlay hardware and software used creates a campus-wide system for managing the content that allows easy and effective central and local management of information - so that screens display content provided centrally alongside content provided locally by schools and services within individual buildings.
Criteria
Messages must be relevant to most staff, students and other visitors to campus.
The main types of messages that are considered include:
Announcements or news of campus-wide interest or concern, e.g. 'Sussex 11th in UK - Guardian league table out now'
Large or campus-wide events, e.g. 'Summer Open Day - 10 June'
General welcome messages ('Welcome to the University of Sussex')
Specific welcome messages, e.g. 'Welcome to International Summer School students'. Please note: messages of this kind will be restricted. It is not possible or desirable to individually welcome every visitor to campus in this way
Emergency announcements, including closure (e.g. snow)
As a general rule, the signs are not used to promote events unless they are judged to have a general interest (e.g. open days, student theatre productions, public lectures) or are particularly high-profile or prestigious (e.g. major conferences, events with important guests).
Length, number and frequency
Messages are necessarily short and concise. They are drafted and approved by the Internal Communications team.
Messages will need to fit on one screen, and any text should be no more than 50 characters long (aim for six or seven words).
The number and frequency of messages are determined by priorities (e.g. during emergencies, one message may show continuously).
Changes during the day
Notices are normally reviewed daily, but they could be changed during the day as events start or finish, or if an emergency unfolds.
How to suggest a message
You are encouraged to use a variety of communications channels for announcements rather than relying solely on digital signs - which are necessarily limited to a small number of high-profile items.
Messages that are approved for the sign should reinforce information given elsewhere (online, via email, newsletters, etc.). We would expect any suggestion to outline the ways in which other communications channels are being used.
The number of messages that can appear on the sign at any given time is limited, and we in the Internal Communications team decide which have priority at any given time.
More information
Call ext. 8888, or email internalcomms@sussex.ac.uk.
How to request a new screen
If you are a member of staff who would like a new digital signage screen in your building, you can apply for one via IT Services.
The standard set-up includes:
A large, wall-mounted display screen.
A TriplePlay control box that provides the content.
Six information slides, which show for 20 seconds each. Three of these are administered by the central Communications team and three are available for you to customise via the TriplePlay interface.
Introductory training in using TriplePlay.
There are two pre-requisites that you will need to fulfil before you apply for a digital signage screen:
The location for the screen must be suitable for drilling, etc. to mount the screen. You should contact Sussex Estates and Facilities (SEF) to ensure that the location isn't affected by the listed status of the building or any practical concerns around the structure.
The site must have power and networking. Again, contact SEF to install this if it isn't available at your chosen location.
Please contact IT Services for more information about requesting digital signage, including associated costs.