Professor Paul O'Prey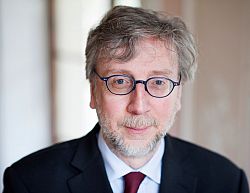 Member appointed by Council for a three-year term from 01 September 2021 to 31 August 2024.
Professor Paul O'Prey CBE is Chair of the Edward James Foundation which, among other things, owns and runs West Dean College of Arts and Conservation, located on the Foundation's rural estate in the South Downs National Park.In 2019 he retired as Vice-Chancellor of the University of Roehampton, London, a position he had held since 2004. Prior to joining Roehampton, Paul worked at the University of Bristol for sixteen years in various roles.
A Professor of Modern Literature, Paul has a particular interest in twentieth and twenty-first century poetry. He has written extensively on Robert Graves and his circle, as well as on war poetry more generally. He has published two influential and popular anthologies: First World War: Poems from the Front, and Counter-Wave: Poetry of Rescue in the First World War. Other publications include Fleet, a collection of poems about the 'lost' River Fleet in London, and The House of Ulloa, a translation of the classic nineteenth century novel by Emilia Pardo Bazan (with Lucia Graves). Paul is currently editor of the War Poetry Review and was for several years, until its closure in 2017, chair of the editorial board of Despatches, the magazine of the Imperial War Museum.
He has served on the Board of Universities UK where he also chaired the Longer Term Strategy Group and the UUK Membership Committee (2010–2019). Other Boards include the University of Sussex Council (2004-2006); the Higher Education Funding Council for England Strategic Advisory Committee on Leadership Governance and Management (2005–11); Higher Education Careers Services Unit Board (2006–13); London Higher Board (2006–09 and 2016-2019); Sport England Higher Education Stakeholder Group (2008–2019); Putney High School, Governor (2004–09); Set Squared Partnership (2002-2004), and the Worldwide Universities Network Academic Board (2002–04). Paul holds honorary degrees from the University of Bristol and Manhattenville University (New York).
In 2016 he was awarded a CBE for services to higher education and the literary history of the First World War. He lives in Hove.
Member of the following Committtees:
Student Experience Committee