Professor Stephen Caddick
Member appointed by Council (first appointed: 21 March 2018 for a first term until 20 March 2021 and for a second term from 1 January 2021 until march 2024).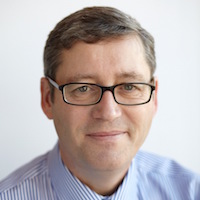 Professor Stephen Caddick led the Innovations Division at the Wellcome Trust from 2015 to 2020. He is also Professor of Chemical Biology at UCL.
Previously, he was a member of UCL's Senior Management Team as Vice Provost (Enterprise & London) and led UCL's activities in enterprise and innovation including knowledge and technology transfer, student enterprise, academic consultancy, industry partnerships and continuing professional development. He also led the development of UCL's new campus, UCL East on the Queen Elizabeth Olympic Park. He has been Head of the Department of Chemistry at UCL and has been non-executive director of UCL Business, Chair of UCL Consultants board, Chair of the Bloomsbury Bioseed Fund a member or chair of numerous EPSRC, BBSRC and MRC funding committees. He is a member of the Royal Society's Science, Industry and Translation Committee. He is co-founder of Synthetic Pages, an open access website, and Thiologics, an antibody-drug conjugate (ADC) biotech spin-out company. He led the development of the chemical biology strategy and facilities for the Francis Crick Institute. He has published more than 160 peer-review publications and his laboratory focuses on chemical modification of proteins and antibodies for development of therapeutics and diagnostics.
Member of the following Committees:-
Rem Comm A and B (Chair)
Strategic Peformance & Resources Committee
Chairs' Committee