Mr Mark Devlin
Member appointed by Council on 1 October 2017. Re-appointed for a second term to 31 July 2023.
Mark is Chief Executive of Young Epilepsy, the UK charity working exclusively with children and young adults with epilepsy.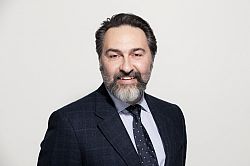 He is a Trustee of the Royal College of Paediatrics and Child Health and is Chair of the Board of Trustees for 1st Place, a South London children's centre charity.
Previous career experience includes chief executive and non-executive chair roles in healthcare management and education. These include having been CEO of two NHS Trusts and Chair of Health Education England, South East region. Latterly, his career has focussed in the children's charity sector, most recently as COO with UNICEF UK, the leading child rights and international development charity.
He is a Physiology graduate of Queen's University, Belfast and holds a Master's degree in Health and Social Services Management. He is a member of the Institute of Healthcare Management and Association of Chief Executives of Voluntary Organisations (ACEVO).
Member of the following committees:
Capital Programmes Committee (Chair)
Strategic Performance and Resources Committee
Chair's Committee