Dame Denise Holt
Member appointed by Council from 1 August 2017 for a first term until 31 July 2020 (as Chair from 1 August 2018). Re-appointed for a second term of three years from 1st August 2020 to 31st July 2023 as an independent member and Chair of Council.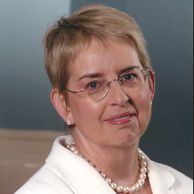 Denise's first career was in the Diplomatic Service, where she was Research Officer for Iberia (1970-1984). Her subsequent career included postings in Ireland and Brazil. In London she was successively Head of the Central American desk; Deputy Head of Eastern Department, (Central Asia and the Transcaucasus). After a two year spell of family leave, she was appointed FCO Director for Human Resources, then Ambassador to Mexico, Director for Migration and for the Overseas Territories and finally, Ambassador to Spain.
Since leaving the FCO in 2009, Denise has held a number of non-executive roles with private, public and third sector organisations entering on four particular fields of interest: education, health, energy and banking. In education, she was a member of the inaugural Board of Ofqual and of the Governing Council at her alma mater, Bristol University. She was also interim Chair of the Institute for Latin American Studies (University of London) and a member of the management board of the Cañada Blanch Centre for the Study of Contemporary Spanish Studies at LSE. In health, Denise was a member of the NHS Pay Review Body from 2010-2015, a Governor of Nuffield Health, the UK's leading healthcare not-for-profit, and is currently NED on the Board of the newly merged University Hospitals, Sussex NHS Foundation Trust. Denise was Non Executive Director of HSBC Bank plc and Chairman of M&S Bank plc. She was NED with the Spanish energy company, Iberdrola, and of two of its UK subsidiaries (ScottishPower Renewables and ScottishPower Networks).
Denise has lived in West Sussex for nearly 25 years. She sees the role of Council as providing constructive challenge and support to the Vice Chancellor and his team as they navigate the shoals of HE policies, work cooperatively with regulators and others across the sector, and chart the way to an even stronger next 60 years for the University in a fast changing world in which sustainability will be a key factor.
Member of the following committees:-
Chairs' Committee (Chair)
Remuneration Committee A and B
Strategic Performance and Resources Committee (observer)
Student Experience Committee (observer)
Audit and Risk Committee (observer)
Capital Programmes Committee (observer)
Honorary Degress Commitee (observer)