Mr Simon Fanshawe OBE
Chair of Council (from 1 August 2007 until 31 July 2013)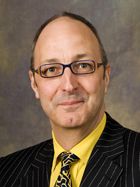 Member appointed by Council (first appointed: 1 August 2001, end of tenure: 31 July 2013).
The Chair of Council is elected from amongst the fifteen independent members of Council.
Simon was a law student at Sussex from 1975-78 and worked as a community worker in Brighton for five years. He then became an award-winning comic, in a ten-year career that overlapped with radio, TV and journalism.
He now works as a broadcaster, writer and consultant. He writes for a number of national papers and magazines on arts and culture, politics, identity, discrimination, behaviour and cities. He appears regularly on BBC radio and TV. He is the author of "The Done Thing - negotiating the minefield of modern manners".
Simon works with both private and public sector organisations on strategy and performance improvement and holds a number of board positions: chair of the Brighton & Hove Economic Partnership, chair of Midnight Communications, board member of the Edinburgh Festival Fringe, board member of Forster, board member of Brighton Festival and Dome.
Simon was awarded an OBE in the New Year's Honours.
Member of the following Committees:

Attenborough Centre for the Creative Arts International Advisory Board
Honorary Degrees Committee
Nominations Committee
Remuneration Committee