Ms Adrienne Fresko CBE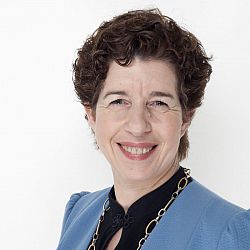 Member appointed by Council (first appointed: August 2013, re-appointed for a second term of three years on 1 August 2016 until 31 July 2019 and re-appointed for a third term on 1 August 2019 until 31 July 2022).
Appointed as Vice-Chair of Council from 1 August 2018.
Adrienne has a depth and breadth of expertise in the development of governance and board effectiveness in public services and the charity sector as well as a special interest in leadership development and executive coaching. Most recently she was lead Partner for Leadership and Governance in GE Healthcare Finnamore and prior to that was co-founder and director of Foresight Partnership.
She has led the development of highly respected national guidance for boards in public services. This has included guidance for all NHS Boards in England, and its successor version 'The Healthy NHS Board 2013'. Adrienne was co-secretary, leading the development and publication of the Good Governance Standard for Public Services. Before establishing Foresight Partnership, Adrienne worked as the Head of the Centre for Public Governance, supporting the development of governors and good governance across public services and before that worked in human resources management at director level for Citicorp in Europe and in the US.
Adrienne has held a wide range of public and charity board level appointments. These include as Vice Chair of the Health Foundation, Deputy Chair of the Audit Commission and Chair of Croydon Health Authority.
She is a member of the Chartered Instituted of Personnel Development, and the British Psychological Society and is a Fellow of the RSA. She has an MA from St. Anne's College, Oxford University in Experimental Psychology and an MSC in Occupational Psychology from Birkbeck College, University of London.
Member of the following Committees:-
Remuneration Committee A and B
Strategic Performance and Resources Committee
Chairs' Committee